Swedes trade swipe cards for microchip implants
by Xavier Symons | 7 Apr 2017 |
A small Swedish tech company is microchipping its employees for security access, in a move that has garnered international attention.
The Stockholm firm Epicenter – a startup hub that is home to over 300 small companies – is offering to implant employees with RFID (radio-frequency identification) chips that are roughly the size of a grain of rice and provide recipients with access to doors and photocopiers.
The chip is implanted using a syringe into the fleshy part of the recipient's hand, in a relatively short and painless process.
About 75 of the 2,000 people who work for the organizations housed at Epicenter have already elected to have the chip implanted, in addition to another 75 people who have no direct affiliation with the hub, but have attended open events there.
Ethicists have raised concerns about the potential for privacy violations as a result of hacking.
Ben Libberton, a microbiologist… click here to read whole article and make comments
Sperm bring in 'serious money' for London hospital
by Michael Cook | 7 Apr 2017 |
Sperm is becoming a commercialised commodity. In the UK a hospital run by the National Health Service (NHS) in London is planning to meet its budget by selling it. Although the hospital is non-for-profit, it is allowed to sell sperm.
"This could make serious money for the hospital," says embryologist Erica Foster, of the Whittington Hospital. "You can sell donor sperm for around £900 (US$1120) a vial. I can get three vials from one ejaculate. Of course, we'll do it for a bit less, as it is a NHS hospital."
Ms Foster hopes that customers will feel more comfortable buying paternity for a future baby from a government-run hospital than a "faceless" website or a foreign sperm bank. She told the Camden New Journal:
"What people need to know is that, because the NHS doesn't provide this service, all the money is… click here to read whole article and make comments
Arkansas rushes to execute 7 in 11 days
by Michael Cook | 7 Apr 2017 |
The American state of Arkansas has not executed anyone for more than 10 years. And now, because it cannot source a crucial ingredient in a lethal cocktail of drugs after April 30, 7 inmates are scheduled to die in 11 days. Another one was granted a stay of execution on Thursday.
"In order to fulfill my duty as Governor, which is to carry out the lawful sentence imposed by a jury, it is necessary to schedule the executions prior to the expiration of that drug," said Governor Asa Hutchinson. "It is uncertain as to whether another drug can be obtained, and the families of the victims do not need to live with continued uncertainty after decades of review."
The number of executions is unprecedented in recent US history, as states gradually abolish capital punishment or refused to use it. The Arkansas Attorney-General, however, defiantly declared… click here to read whole article and make comments
FDA green-lights more 23andMe genetic tests
by Xavier Symons | 7 Apr 2017 |
The US Food and Drug Administration will allow the genetic testing company 23andMe to market tests for 10 serious disease and conditions, in a move that marks an about-face on the 2013 moratorium imposed on it.
The newly approved tests will use saliva samples to report on telltale markers for conditions such as Coeliac disease, Gaucher disease type 1, and blood clotting disorders. The tests will be marketed as part of the US$199 Health and Ancestry test that the company already provides.
The screening services are the first direct-to-consumer tests authorized by the FDA that provide information on an individual's genetic predisposition to certain medical diseases or conditions.
In 2015 the FDA gave approval to 23andMe to test for mutated genes that may lead to diseases such as cystic fibrosis in children.
While some have welcomed the FDA approval, others are wary of… click here to read whole article and make comments
Dutch doctors oppose plans for 'completed life' euthanasia
by Michael Cook | 7 Apr 2017 |
Although Dutch government proposals for euthanasia for "completed life" – that is, for elderly people who want to step off the treadmill gracefully – have received a lot of publicity, they have not been legislated.
Now the Royal Dutch Medical Association (KNMG), the peak body for doctors in the Netherlands, has announced its opposition." Such a radical proposal is not desirable for practical reasons and for reasons of principle," says the KNMG.
Adding another law to govern the practice of euthanasia will lead to great complications, it contends. "The current Act is meticulous, transparent, verifiable, safe for patients and physicians, and has broad support."
The government's proposal could harm the elderly. "Vulnerability due to age, when people experience many medical and non-medical problems, can cause unbearable and hopeless suffering within the meaning of the legislation." It could end up stigmatising the elderly.
The KNMG points out… click here to read whole article and make comments
Will India ban commercial surrogacy?
by Michael Cook | 2 Apr 2017 |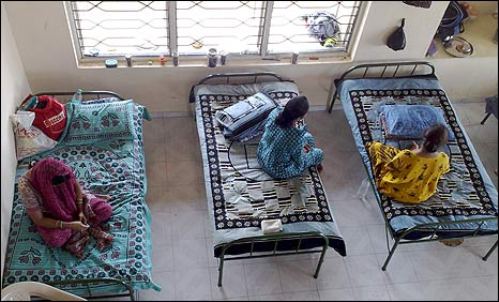 The government of Indian prime minister Narendra Modi has released a draft of a bill regulating the controversial surrogacy industry. The Surrogacy (Regulation) Bill, 2016 proposes a complete ban on commercial surrogacy, which would be a huge blow to the rapidly growing industry. It also restricts the clients of surrogate mothers to Indian citizens residing in India who are married but infertile; unmarried couples, single parents, and homosexuals would not be eligible. Only altruistic surrogacy will be allowed and clients would only be able to compensate women for their expenses. The surrogate must also be a close relative of the commissioning couple.
The government would become more involved with the creation of a National Surrogacy Board and surrogacy boards in the states as well.
Journalist Pinki Virani, author of the recent book Politics Of The Womb: The Perils Of IVF, Surrogacy & Modified Babies, welcomed… click here to read whole article and make comments
by Michael Cook | 2 Apr 2017 |
The election of Donald Trump and the emergence of "authoritarian populism" has given rise to some tensions within academic bioethics. One article in the current issue of the Hastings Center Report argues that bioethicists should act as champions of a more communitarian politics, pushing back against narrow and divisive trends which are threatening constitutional democracies. Mildred Z. Solomon, the president of The Hastings Center and a bioethicist at Harvard Medical School, and Bruce Jennings, of Vanderbilt University, write:
Although bioethics is often known for its scholarly analyses and recommendations regarding specific policy issues in health care, life sciences research, and biotechnologies, in fact, from its inception, bioethics has been concerned with the age-old communitarian question, how should we live together? Bioethics has often contributed to political philosophy and political culture by exploring essential democratic values such as liberty, equality, justice, pluralistic solidarity, and parity of… click here to read whole article and make comments
Elon Musk wants us all to become cyborgs
by Michael Cook | 2 Apr 2017 |
Silicon Valley entrepreneur Elon Musk has launched a company which will research ways to link computers directly with the human brain. According to the Wall Street Journal, the billionaire co-founder of PayPal, and the boss of Tesla and SpaceX, has started a new company called Neuralink which will explore "neural lace" technology – a fine wire and plastic mesh which integrates into brain tissue and "eavesdrops" on neural chatter.
Musk believes that artificial intelligence will become so powerful that it will eventually make human beings obsolete. The only way that humans can avoid becoming house pets to computers is to integrate human intelligence and artificial intelligence – in other words, to become cyborgs.
Not everyone is convinced that such a project is necessary or possible. "The idea that digital machines no matter how hyper-connected, how powerful, will one day surpass human capacity is total baloney," Miguel… click here to read whole article and make comments
Should psychopaths be morally bioenhanced?
by Michael Cook | 2 Apr 2017 |
Our culture is fascinated by psychopaths. Go shopping on Amazon and you will find books like The Wisdom of Psychopaths: What Saints, Spies, and Serial Killers Can Teach Us About Success; or Without Conscience: The Disturbing World of the Psychopaths Among Us; or Snakes in Suits: When Psychopaths Go to Work; or The Psychopath Test: A Journey Through the Madness Industry.
Two Croatian bioethicists writing in the Journal of Medical Ethics contend this week that moral bioenhancement for psychopaths ought to be obligatory.
What is psychopathy? The authors define it as "a personality disorder that involves traits such as pathological lying, manipulativeness, superficial charm, no or little concern for the interests of others, a grandiose sense of self and, usually, a long history of offences and encounters with justice". Not the sort of person, in other words, you would normally want as… click here to read whole article and make comments
Assisted suicide goes down in Hawaii
by Xavier Symons | 1 Apr 2017 |
Hawaii's House of Representatives have "deferred" a medical aid in dying bill, just weeks after it was overwhelmingly approved in the Senate. The state's seven-member House Health Committee said the bill lacked appropriate safeguards details about clinical oversight.
"We're concerned about safeguards, the record-keeping, the physician training to be able to do this prescribing for aid in dying," said Democrat Della Au Bellati, the chair of the committee.
Republican Andria Tupola, also a member of the committee, said the measure was poorly written. "It literally said you could pick it up from the pharmacy, do it at home, and it didn't even mandate that someone had to be present and you had to do it in a private place," she said.
The bill would have allowed would have allowed terminally… click here to read whole article and make comments
Be a fan of BioEdge on Facebook