How should chimeric embryo research be regulated?
by Patrick Foong | 25 Aug 2019 |
Experiments with chimeras will lead to greater knowledge and better health. Or that's the argument of Japanese scientist Hiromitsu Nakuchi. He recently was authorised to create animal embryos which contain human cells and transplant them into surrogate animals under the Japanese guidelines amended in March 2019.
The amended rules remove a previous prohibition on the making of chimeras past fourteen days. They allow the transfer of chimeric embryos into animals while barring them into humans.
In his study, Nakuchi proposes to create an animal embryo with a missing gene required for the creation of an organ, e.g. a pancreas. He will then insert human IPS cells into the animal embryo. As the animal matures, the human IPS cells will create a human pancreas.
Nakuchi intends to begin with the creation of hybrid mice, followed by hybrid rats and hybrid pigs. His ultimate objective is to develop animals with human organs which could be transplanted into a human patient.
Making… MORE
Doctors fight legislation prompted by sex abuse scandals
by ​​​​​​​Anna Almendrala | 24 Aug 2019 |
Daniella Mohazab didn't know what to expect from her first pelvic exam in 2016. The University of Southern California sophomore, then 19, was startled when her doctor examined her vagina for several minutes without gloves, but assumed it was standard procedure.
It wasn't until two years later, when she read about Dr. George Tyndall's alleged sexual abuse against USC students, that she realized she may have been sexually violated by him as well.
Driven by stories like Mohazab's, California Assembly members Ian Calderon (D-Whittier) and Cottie Petrie-Norris (D-Laguna Beach) have proposed a bill to require doctors to give first-time pelvic exam patients a pamphlet about how the exams are supposed to be conducted, and a phone number should they want to report misconduct to the state medical board. Doctors would face a fine if they did not collect a patient's signature confirming they received the pamphlet.
Mohazab said a pamphlet would have helped her immensely.
"It… MORE
Fudged research results erode people's trust in experts
by Gavin Moodie | 3 Aug 2019 |
Reports of research misconduct have been prominent recently and probably reflect wider problems of relying on dated integrity protections.
The recent reports are from Retraction Watch, which is a blog that reports on the withdrawal of articles by academic journals. The site's database reports that journals have withdrawn a total of 247 papers with an Australian author going back to the 1980s.
This compares with 324 papers withdrawn with Canadian authors, 582 from the UK and 24 from New Zealand. Australian retractions are 1.2% of all retractions reported on the site, a fraction of Australia's 4% share of all research publications.
Australian retractions have fallen from around 25 a year when Retraction Watch was launched in 2010 to an average of 11 in each of 2018 and 2017. This is in line with all retractions falling from 5,108 in 2010 to an average of 660 in the last two years. (However 2010 saw an usually high number… MORE
US doctors vote to oppose assisted suicide
by Frederick White | 20 Jun 2019 |
In a move which has global repercussions, the American Medical Association has voted reaffirm its opposition to physician-assisted suicide.
The AMA's official position is that legalized assisted suicide is contrary to the physician's role as healer, puts vulnerable patients at risk, and would be difficult or impossible to control.
We asked Dr Frederick White, a Louisiana cardiologist and an AMA delegate, to explain what happened.
* * * * * * *
The AMA reaffirmed its opposition to physician-assisted suicide (PAS) last week. Can you fill us in on what happened?
Dr White: The votes taken at the AMA last week were the culmination of three years of debate on the issue of PAS. This debate began in 2016 when the AMA's Louisiana delegation aske the AMA to reaffirm its opposition to PAS. The Oregon delegation objected and convinced the AMA to have its Council on Ethical and Judicial Affairs study the issue. After a year of intense… MORE
Fertility tourism: Australians travelling to US to have 'designer babies'
by Patrick Foong | 8 Jun 2019 |
Australian intended parents are spending A$20,000 to select the sex and eye colour of yet-to-be-born babies via with IVF at American fertility clinics. Blue is the favourite eye colour. Compared to headline features like high IQ, Olympic athletic ability or freedom from Alzheimer's, these are modest product specs. But when all is said and done, these parents are still creating "designer babies".
This is forbidden under Australian law. Unlike the United States, where the fertility industry is very lightly regulated, gender selection is banned throughout Australia. According to the Ethical Guidelines on the use of Assisted Reproductive Technology in Clinical Practice and Research 2017 (ART Guidelines), sex selection is only permitted for medical reasons, when a genetic disease is sex-related.
While these guidelines are not legally enforceable, Australian fertility clinics cannot practise without accreditation. And the Reproductive Techology Accreditation Centre (RTAC) Code of Practice requires fertility clinics to comply with the ART Guidelines.
In addition, in three states ie.… MORE
Misreporting science is unethical and even dangerous
by Cathal D. O'Connell | 28 May 2019 |
I work in the field of bioprinting, where the aim is to build biological tissues by printing living cells into 3D structures.
Last month I found my Facebook news feed plastered with an amazing story about "the first 3D printed heart using a patient's own cells". A video showed a beautiful, healthy-looking heart apparently materialising inside a vat of pinkish liquid.
Big news. According to an impact tracking algorithm, the story has been picked up by 145 news outlets, tweeted 2,390 times to 3.8 million followers (as of May 27, 2019). Articles on Facebook have at least 13,000 shares, and videos about the story have been viewed well over 3 million times.
Unfortunately, many of these media reports don't match up well with the original science.
Over-reporting of medical science is unethical, and occasionally dangerous. It's a problem all of us who work in the creation and telling of science can act to fix.
How they printed… MORE
When is dead really dead? Study on pig brains reinforces that death is a vast gray area
by Katharina Busl | 27 Apr 2019 |
For the longest time, "death" used to be when the heart stopped beating and breathing stopped. Then, machines were invented in the 1930s that enabled people to receive air even if they could not take in the air themselves. In the 1950s, machines were developed to help sustain heartbeat.
But no machine could bring back an irreversibly brain-damaged patient to have a functioning brain. As a result, the concept of "brain death" was introduced as an additional definition of death to complement death by heart-lung failure.
The concept of brain death, while legally adopted in the U.S. and in large parts of the world, has remained an area of ongoing discussion. It often centers on how someone can be dead when the heart is beating and the body is warm, even if this function is entirely reached through artificial support. Brain death also is more difficult to conceptualize, as it is a less visible form of death. And… MORE
Elite hospitals plunge into unproven stem cell treatments
by Liz Szabo | 6 Apr 2019 |
The online video seems to promise everything an arthritis patient could want.
The six-minute segment mimics a morning talk show, using a polished TV host to interview guests around a coffee table. Dr. Adam Pourcho extols the benefits of stem cells and "regenerative medicine" for healing joints without surgery. Pourcho, a sports medicine specialist, says he has used platelet injections to treat his own knee pain, as well as a tendon injury in his elbow. Extending his arm, he says, "It's completely healed."
Brendan Hyland, a gym teacher and track coach, describes withstanding intense heel pain for 18 months before seeing Pourcho. Four months after the injections, he says, he was pain-free and has since gone on a 40-mile hike.
"I don't have any pain that stops me from doing anything I want," Hyland says.
The video's cheerleading tone mimics the infomercials used to promote stem cell clinics, several of which have recently gotten into hot water with… MORE
Could a booster shot of truth help scientists fight the anti-vaccine crisis?
by Lee McIntyre | 9 Mar 2019 |
The recent outbreak of measles cases in Clark County, Washington – which has been linked to a plummeting vaccination rate in this hotbed of anti-vaccination activism – makes clear that conspiracy theories, fear, and misinformation know no partisan bounds. The Governor has declared a state of emergency and sent public health officials out to talk to parents – sometimes one on one – as more than 60 cases have now been reported.
Now imagine what might happen if the government itself had embraced an official anti-vaccine policy.
As a philosopher of science who has studied science denial, I know that science denial is a world-wide phenomenon. Although some anti-science claims like evolution denial are particularly virulent in the U.S. (outstripped only by Turkey), it's not just America that faces this problem.
This can be both a blessing and a curse. While it's sad to know that the forces behind science denial are larger than any one… MORE
Rights of the dead and the living clash when scientists extract DNA from human remains
by Chip Colwell | 15 Feb 2019 |
Egyptian mummy / AP
The remains of a 6-inch long mummy from Chile are not those of a space alien, according to recently reported research. The tiny body with its strange features – a pointed head, elongated bones – had been the subject of fierce debate over whether a UFO might have left it behind. The scientists gained access to the body, which is now in a private collection, and their DNA testing proved the remains are those of a human fetus. The undeveloped girl suffered from a bone disease and was the child of an unknown local Atacama woman.
This study was supposed to end the mummy's controversy. Instead, it ignited another one.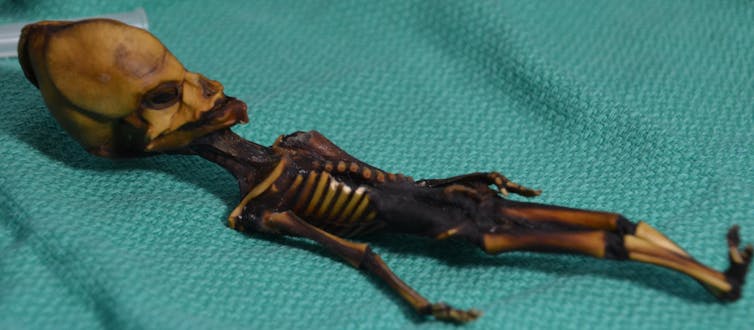 Page 3 of 7 : < 1 2 3 4 5 > Last ›