When is dead really dead? Study on pig brains reinforces that death is a vast gray area
by Katharina Busl | 27 Apr 2019 |
For the longest time, "death" used to be when the heart stopped beating and breathing stopped. Then, machines were invented in the 1930s that enabled people to receive air even if they could not take in the air themselves. In the 1950s, machines were developed to help sustain heartbeat.
But no machine could bring back an irreversibly brain-damaged patient to have a functioning brain. As a result, the concept of "brain death" was introduced as an additional definition of death to complement death by heart-lung failure.
The concept of brain death, while legally adopted in the U.S. and in large parts of the world, has remained an area of ongoing discussion. It often centers on how someone can be dead when the heart is beating and the body is warm, even if this function is entirely reached through artificial support. Brain death also is more difficult to conceptualize, as it is a less visible form of death. And… MORE
Elite hospitals plunge into unproven stem cell treatments
by Liz Szabo | 6 Apr 2019 |
The online video seems to promise everything an arthritis patient could want.
The six-minute segment mimics a morning talk show, using a polished TV host to interview guests around a coffee table. Dr. Adam Pourcho extols the benefits of stem cells and "regenerative medicine" for healing joints without surgery. Pourcho, a sports medicine specialist, says he has used platelet injections to treat his own knee pain, as well as a tendon injury in his elbow. Extending his arm, he says, "It's completely healed."
Brendan Hyland, a gym teacher and track coach, describes withstanding intense heel pain for 18 months before seeing Pourcho. Four months after the injections, he says, he was pain-free and has since gone on a 40-mile hike.
"I don't have any pain that stops me from doing anything I want," Hyland says.
The video's cheerleading tone mimics the infomercials used to promote stem cell clinics, several of which have recently gotten into hot water with… MORE
Could a booster shot of truth help scientists fight the anti-vaccine crisis?
by Lee McIntyre | 9 Mar 2019 |
The recent outbreak of measles cases in Clark County, Washington – which has been linked to a plummeting vaccination rate in this hotbed of anti-vaccination activism – makes clear that conspiracy theories, fear, and misinformation know no partisan bounds. The Governor has declared a state of emergency and sent public health officials out to talk to parents – sometimes one on one – as more than 60 cases have now been reported.
Now imagine what might happen if the government itself had embraced an official anti-vaccine policy.
As a philosopher of science who has studied science denial, I know that science denial is a world-wide phenomenon. Although some anti-science claims like evolution denial are particularly virulent in the U.S. (outstripped only by Turkey), it's not just America that faces this problem.
This can be both a blessing and a curse. While it's sad to know that the forces behind science denial are larger than any one… MORE
Rights of the dead and the living clash when scientists extract DNA from human remains
by Chip Colwell | 15 Feb 2019 |
Egyptian mummy / AP
The remains of a 6-inch long mummy from Chile are not those of a space alien, according to recently reported research. The tiny body with its strange features – a pointed head, elongated bones – had been the subject of fierce debate over whether a UFO might have left it behind. The scientists gained access to the body, which is now in a private collection, and their DNA testing proved the remains are those of a human fetus. The undeveloped girl suffered from a bone disease and was the child of an unknown local Atacama woman.
This study was supposed to end the mummy's controversy. Instead, it ignited another one.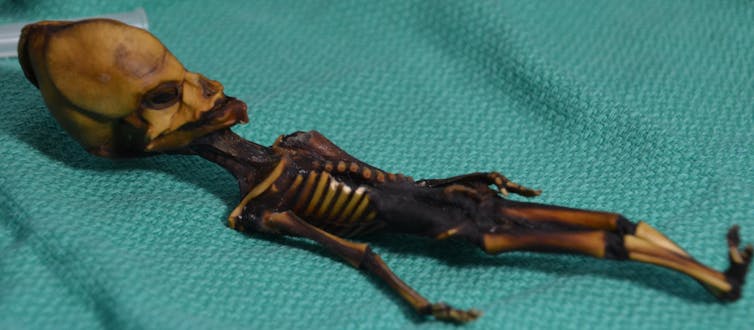 Frankenstein: the real experiments that inspired the fictional science
by Iwan Morus | 2 Nov 2018 |
On January 17, 1803, a young man named George Forster was hanged for murder at Newgate prison in London. After his execution, as often happened, his body was carried ceremoniously across the city to the Royal College of Surgeons, where it would be publicly dissected. What actually happened was rather more shocking than simple dissection though. Forster was going to be electrified.
The experiments were to be carried out by the Italian natural philosopher Giovanni Aldini, the nephew of Luigi Galvani, who discovered "animal electricity" in 1780, and for whom the field of galvanism is named. With Forster on the slab before him, Aldini and his assistants started to experiment. The Times newspaper reported:
On the first application of the process to the face, the jaw of the deceased criminal began to quiver, the adjoining muscles were horribly contorted, and one eye was actually opened. In the subsequent part of the process, the right hand was raised… MORE
Is it possible for doctors to be neutral on physician-assisted suicide?
by Michael Cook | 28 Oct 2018 |
Earlier this month the American Academy of Family Physicians (AAFP) broke ranks with the American Medical Association (AMA) by adopting a position of "engaged neutrality" on assisted suicide and euthanasia.
The AMA, an umbrella group for dozens of American medical associations, opposes "aid in dying". Its official position is that "Physician-assisted suicide is fundamentally incompatible with the physician's role as healer, would be difficult or impossible to control, and would pose serious societal risks."
But at its Congress of Delegates in New Orleans the AAFP, the second largest component society of the AMA with more than 131,400 members, repudiated this. A super-majority of the delegates voted to adopt a position of "engaged neutrality" and to reject the use of the terms "assisted suicide" or "physician-assisted suicide".
"Through our ongoing and continuous relationship with our patients, family physicians are well-positioned to counsel patients on end-of-life care, and we are engaged in creating change in the best interest of our patients," said… MORE
Is it immoral to watch football?
by Cesar R. Torres and Francisco Javier López Frías | 29 Sep 2018 |
For a large swath of Americans, fall means football. But, as in previous years, this season's football has been mired in controversy.
Casino betting is usually lumped in with a general "betting" group that includes bingo and lottery. But casino gambling has risen from 35.1% in 2013 from 32% in 2007.
Are you looking to get into the exciting world of online gambling? There is no better way to learn the ropes and have some fun than with free online casino games! We have a selection of over 7,500 ...
Casino en ligne depot 1$
The latest gambling and betting regulations in the United Kingdom demand that all operating brands join Gamstop. These rules were introduced to protect UK payers who have a gambling problem. So, betting sites not on gamstop are non UK betting sites by default.
Most notable of these has been the Colin Kaepernick case. Kaepernick has accused the NFL of colluding… MORE
Euthanasia in Belgium: updates on a social experiment
by Richard Egan | 2 Sep 2018 |
Every two years the Belgium Federal Commission on the Control and Evaluation of Euthanasia presents a report detailing statistics and developments in the practice of euthanasia in Belgium.
The report is currently only available in French and Dutch. However, in this article, with the help of Google Translate the information from 2016 and 2017 has been extracted.
Overall, the impression is that euthanasia practice in Belgium continues on the path of normalising euthanasia as the go-to response to an ever increasing range of circumstances including children with disabilities, uncompleted suicides and victims of child abuse.
Increase in numbers
Deaths by legal euthanasia have increased nearly tenfold (982%) from 235 in 2003 – the first full year of legalisation – to 2,309 in 2017. From 2016 to 2017 alone the increase was 13.85%. Officially reported euthanasia accounted for 2.1% of all deaths in Belgium in 2017.[1]
Organ donation
The 2016-2017… MORE
Page 3 of 6 : < 1 2 3 4 5 > Last ›