Rights of the dead and the living clash when scientists extract DNA from human remains
by Chip Colwell | 15 Feb 2019 |
Egyptian mummy / AP
The remains of a 6-inch long mummy from Chile are not those of a space alien, according to recently reported research. The tiny body with its strange features – a pointed head, elongated bones – had been the subject of fierce debate over whether a UFO might have left it behind. The scientists gained access to the body, which is now in a private collection, and their DNA testing proved the remains are those of a human fetus. The undeveloped girl suffered from a bone disease and was the child of an unknown local Atacama woman.
This study was supposed to end the mummy's controversy. Instead, it ignited another one.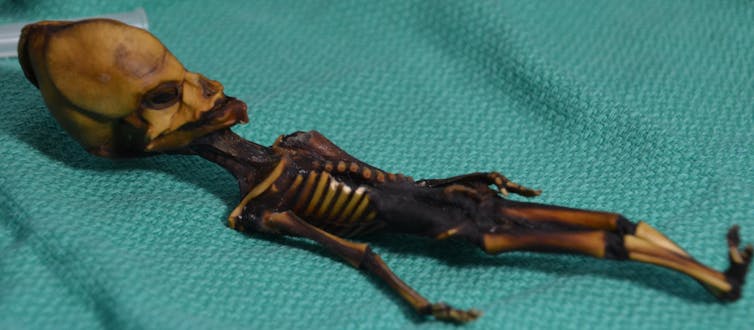 Frankenstein: the real experiments that inspired the fictional science
by Iwan Morus | 2 Nov 2018 |
On January 17, 1803, a young man named George Forster was hanged for murder at Newgate prison in London. After his execution, as often happened, his body was carried ceremoniously across the city to the Royal College of Surgeons, where it would be publicly dissected. What actually happened was rather more shocking than simple dissection though. Forster was going to be electrified.
The experiments were to be carried out by the Italian natural philosopher Giovanni Aldini, the nephew of Luigi Galvani, who discovered "animal electricity" in 1780, and for whom the field of galvanism is named. With Forster on the slab before him, Aldini and his assistants started to experiment. The Times newspaper reported:
On the first application of the process to the face, the jaw of the deceased criminal began to quiver, the adjoining muscles were horribly contorted, and one eye was actually opened. In the subsequent part of the process, the right hand was raised… MORE
Is it possible for doctors to be neutral on physician-assisted suicide?
by Michael Cook | 28 Oct 2018 |
Earlier this month the American Academy of Family Physicians (AAFP) broke ranks with the American Medical Association (AMA) by adopting a position of "engaged neutrality" on assisted suicide and euthanasia.
The AMA, an umbrella group for dozens of American medical associations, opposes "aid in dying". Its official position is that "Physician-assisted suicide is fundamentally incompatible with the physician's role as healer, would be difficult or impossible to control, and would pose serious societal risks."
But at its Congress of Delegates in New Orleans the AAFP, the second largest component society of the AMA with more than 131,400 members, repudiated this. A super-majority of the delegates voted to adopt a position of "engaged neutrality" and to reject the use of the terms "assisted suicide" or "physician-assisted suicide".
"Through our ongoing and continuous relationship with our patients, family physicians are well-positioned to counsel patients on end-of-life care, and we are engaged in creating change in the best interest of our patients," said… MORE
Is it immoral to watch football?
by Cesar R. Torres and Francisco Javier López Frías | 29 Sep 2018 |
For a large swath of Americans, fall means football. But, as in previous years, this season's football has been mired in controversy.
Most notable of these has been the Colin Kaepernick case. Kaepernick has accused the NFL of colluding to keep him off the field because of his protests against police brutality and racial inequality during the playing of the national anthem. A recent ruling has granted him a full hearing in the dispute.
And this hasn't been the only controversy. Scientific findings have shown that regular practice of football increases the risk of brain diseases. Allegations regarding the intrinsic violent nature of the game and an increasing commercialization of the sport have been the subject of recent headlines as well.
For fans who consider the sport from an ethical perspective, all these issues raise a question: Is watching football morally problematic?
Football injuries
At its core, football demands skill and tactical acumen. Indeed, as… MORE
Euthanasia in Belgium: updates on a social experiment
by Richard Egan | 2 Sep 2018 |
Every two years the Belgium Federal Commission on the Control and Evaluation of Euthanasia presents a report detailing statistics and developments in the practice of euthanasia in Belgium.
The report is currently only available in French and Dutch. However, in this article, with the help of Google Translate the information from 2016 and 2017 has been extracted.
Overall, the impression is that euthanasia practice in Belgium continues on the path of normalising euthanasia as the go-to response to an ever increasing range of circumstances including children with disabilities, uncompleted suicides and victims of child abuse.
Increase in numbers
Deaths by legal euthanasia have increased nearly tenfold (982%) from 235 in 2003 – the first full year of legalisation – to 2,309 in 2017. From 2016 to 2017 alone the increase was 13.85%. Officially reported euthanasia accounted for 2.1% of all deaths in Belgium in 2017.[1]
Organ donation
The 2016-2017… MORE
UK Supreme Court decision changes rules about brain-damaged patients
by Clark Hobson | 4 Aug 2018 |
The Supreme Court is the United Kingdom's highest appellate court. It has now ruled that it is not necessary to obtain a court order to withdraw life-sustaining clinically assisted nutrition and hydration (CANH) from patients in a vegetative or minimally conscious state. However, there must be agreement on the patient's best interests between the clinical team and those with an interest in the patient's welfare, such as family and carers.
Further, appropriate statutory tests must be followed, as well as observing relevant guidance and good medical practice. The Supreme Court also stated a court application can and should be made in certain circumstances. These include if the way forward in treating the patient is finely balanced, or there is a dispute about the patient's best interests.
The decision comes in a case involving "Mr Y". Mr Y was an active man in his 50s. He suffered a cardiac arrest which resulted in extensive brain damage. He never regained consciousness… MORE
I got a hoax academic paper about how UK politicians wipe their bums published
by Gary Lewis | 27 Jul 2018 |
Brandon Blinkenberg, CC BY 2.5, Link
I had what seemed like rather a good idea a few weeks back. Building on some prominent findings in social psychology, I hypothesised that politicians on the right would wipe their bum with their left hand; and that politicians on the left would wipe with their right hand.
Ludicrous? Yes – absolutely. But for once my goal wasn't to run a bona fide scientific study. Instead, I wanted to see if any "journal" would publish my ass-wiping "findings".
For those who haven't yet come across the term, "predatory journals" are becoming a bit of a nuisance in science. They actively masquerade as legitimate mainstream journals, often with similar layouts and names – although they very likely have essentially zero threshold for publication, despite typically claiming to operate with rigorous peer review processes. Most academics will know the irritation of receiving multiple… MORE
Why a London museum should return the stolen bones of an Irish giant
by Thomas L Muinzer | 9 Jun 2018 |
It has all the hallmarks of a Mary Shelley-style Gothic melodrama. A young man, born in 18th-century Ireland with a condition that makes him a "giant", turns himself into a freakshow curiosity and becomes a celebrated figure in Georgian London. Then he comes to the notice of an eminent Scots surgeon who becomes obsessed with his potential value as a medical exhibit. The young man is left devastated when he is pickpocketed of his life savings, contracts TB and succumbs to an untimely death at just 22. Enter the evil bodysnatchers who remove his body before it can be buried at sea.
Except this story really happened. Fast forward to the present – and add in the London museum that refuses to give up the giant's remains for the burial he had wished for – and the novel practically writes itself. In fact, historical novelist Hilary Mantel did just that in her 1998 novel The Giant, O'Brien.
The recently… MORE
Page 2 of 5 : < 1 2 3 4 > Last ›