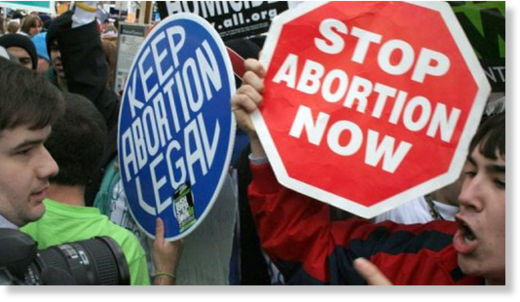 More battles on the abortion front in the US. North Dakota is waiting on its governor's signature to pass two laws which ban abortions if there is a foetal heartbeat can be detected and abortion for sex selection or genetic abnormality. The heartbeat can detected with an intrusive transvaginal ultrasound. There are no exceptions for rape or incest. The governor opposes abortion but has not declared whether he will sign the bill.
And the Arkansas legislature has banned terminations after 12 weeks. The Human Heartbeat Protection Act was approved last week, overriding the veto of Democrat Governor Mike Beebe. It prohibits the abortion of a foetus 12 weeks or older with a heartbeat. Exceptions are made for medical emergencies, as well as cases of rape and incest. "When is enough enough?" asked Jason Rapert, the Arkansas senator who sponsored the bill. "It's time to take a stand".
Pro-choice advocates are outraged. Elissa Berger of the ACLU labelled the law a "brazen" intrusion on a woman's personal decision. Nancy Northup, president of the Center for Reproductive Rights in New York, said that "The 12-week ban actually bars abortion within the first trimester," and therefore "It has no chance of surviving a court challenge."
The reaction of pro-life advocates was mixed. "As much as we would like to protect the unborn at that point, it is futile and it won't save any babies," said James Bopp Jr., a prominent anti-abortion lawyer who opposed the Arkansas law. Bopp said that lower courts are virtually certain to affirm existing Supreme Court rulings and, like other legal experts, he predicted that the Supreme Court was very unlikely to agree to hear such a case.
This article is published by Xavier Symons and BioEdge under a Creative Commons licence. You may republish it or translate it free of charge with attribution for non-commercial purposes following
these guidelines
. If you teach at a university we ask that your department make a donation. Commercial media must
contact us
for permission and fees. Some articles on this site are published under different terms.