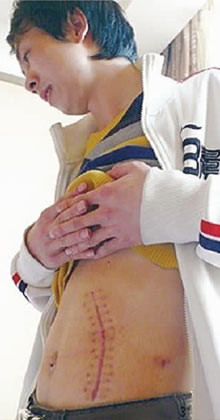 A worldwide illegal trade in kidneys is sharply expanding, according to the World Health Organisation. According to WHO, the illegal trade in kidneys has risen to an estimated 10,000 black market operations involving purchased human organs-- one per hour. Traffickers are flouting laws and are profiting from growing international demand for kidney transplants. The network attributes the rising demand to higher incidence of diabetes and other illnesses. Many patients go to China, India or Pakistan for surgery, which can cost up to US$200,000. The funds go to gangs who harvest organs from the vulnerable and the desperate - sometimes for as little as $5,000.
"The illegal trade worldwide was falling back in about 2006-07 – there was a decrease in 'transplant tourism'," said Luc Noel, a WHO official who leads a research unit on trafficking. But, he says, "The trade may well be increasing again. There have been recent signs that that may well be the case. There is a growing need for transplants and big profits to be made. It's ever growing, it's a constant struggle. The stakes are so big, the profit that can be made so huge, that the temptation is out there."
In South Africa this week, four surgeons and two transplant staff who were allegedly part of an organ trafficking scam detected in 2004 returned to court. The charges relate to 109 illegal kidney transplants that took place at St Augustine's Hospital in Durban between June 2001 and November 2003. The six argue that the hospital management had assured them that the transplants were legal and all proper checks to prevent organ trading had been carried out.
In other transplant news, experts have questioned Facebook's push for organ donor registration. They agree that it has benefits but that it cannot fully address the nation's organ shortage. They also argue that Facebook's move might pose ethical dilemmas for patients and families and trivialise the decision to donate. Doctors described the early results as encouraging, adding that Facebook's pervasive presence in US life could significantly boost the number of people willing to donate their organs after they die, as well as boosting awareness of the organ shortage. ~ Guardian, May 27; News24, May 27; American Medical News, May 28
This article is published by Jared Yee and BioEdge under a Creative Commons licence. You may republish it or translate it free of charge with attribution for non-commercial purposes following
these guidelines
. If you teach at a university we ask that your department make a donation. Commercial media must
contact us
for permission and fees. Some articles on this site are published under different terms.