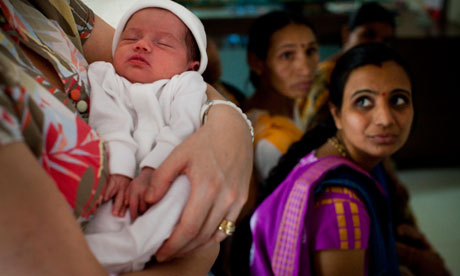 Suzanne Lee / Panos London / Guardian
The Indian government has introduced strict new laws that will prohibit foreigners from commissioning Indian women to bear their children.
In a letter published late last month, the Indian Council of Medical Research, a government body, said surrogacy services could be provided only to married Indian couples. The country's 350 fertility clinics have been ordered "not to entertain any foreigners".
The letter did not address the issue of babies currently being carried by surrogate mothers for foreign clients, and some have petitioned the courts for a stay on the legislation.
Two clinics in Mumbai were this week successful in getting the ban lifted temporarily for couples already expecting a surrogate birth, after taking legal action. But their lawyer Vikrant Sabne told AFP that the Bombay High Court's order did not apply nationally.
The new law sparked an outcry from fertility specialists, along with rallies by surrogate mothers, pressing the government to dump the decision in favour of strict regulation of the industry.
"Why should foreigners be discriminated against? We are all human beings," Nayana Patel, one of India's leading IVF specialists, told AFP.
One surrogate made an impassioned plea to the Medical Council, calling on them to respect "the right to life and dignity of surrogate mothers":
Surrogacy is a good deed that pays well," she told the Hindu. "The government runs many schemes and services, which either benefit the rich or those below poverty line. What about people like us who are constantly living under the danger of falling into the economically weaker section if we fall ill or lose our jobs?"
This article is published by Xavier Symons and BioEdge under a Creative Commons licence. You may republish it or translate it free of charge with attribution for non-commercial purposes following
these guidelines
. If you teach at a university we ask that your department make a donation. Commercial media must
contact us
for permission and fees. Some articles on this site are published under different terms.