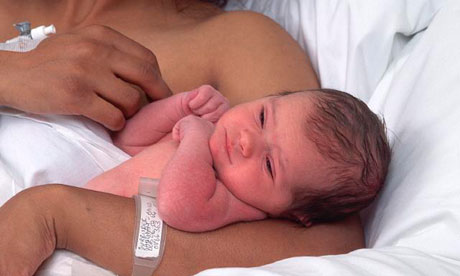 A woman in Sweden has become the first person to give birth after a womb transplant. The 36-year-old woman, a subject in a novel study into womb transplantation, received a transplant from a unrelated 61-year-old donor last year. The woman conceived via IVF and gave birth to a healthy baby boy earlier this year.
The doctors conducting the procedure said that strong immuno-suppression drugs are vital to prevent wombs being rejected. The womb has to be removed after birth, due to the danger posed by long-term use of the powerful suppression medication.
Prof Mats Brannstrom, who led the transplant team, described the birth in Sweden as a joyous moment.
"That was a fantastic happiness for me and the whole team, but it was an unreal sensation also because we really could not believe we had reached this moment."
In an anonymous interview with the AP news agency, the boy's father said: "It was a pretty tough journey over the years, but we now have the most amazing baby."
The woman is one of seven women who have undergone successful womb transplants. The other six women are all now more than 28 weeks pregnant.
This article is published by Xavier Symons and BioEdge under a Creative Commons licence. You may republish it or translate it free of charge with attribution for non-commercial purposes following
these guidelines
. If you teach at a university we ask that your department make a donation. Commercial media must
contact us
for permission and fees. Some articles on this site are published under different terms.