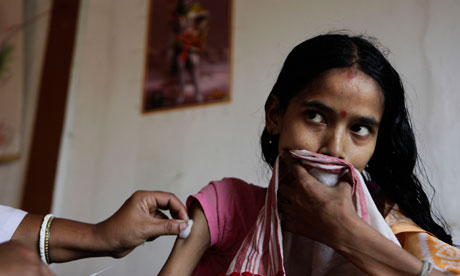 An expert committee set up to investigate the conduct of
trials
of human papillomavirus (HPV) in India has reported far-reaching ethical violations. Members of the committee said that since the project proposal involved research on human participants, it should have followed "all the guidelines and statutory requirements applicable to research on human participants".
The study was conducted by PATH, a Seattle-based population control NGO with substantial support from the Bill & Melinda Gates Foundation. The committee has expressed concerns both at the outsourcing of research unacceptable in the US to other countries as well as the unethical manner in which the trial was conducted.
While BioEdge had difficulty in finding specific information on the issue, it is clear that informed consent is the heart of the controversy. It appears that up to 23,000 girls in Andhra Pradesh and Gujarat received vaccination under the PATH project - and that consent was given on behalf of the girls. According to The Hindu, the Deputy District Medical and Health Officer of Bhadrachalam, P. Mohan Rao, wrote on June 2 2009 to the Project Officer of the Integrated Tribal Development Authority (ITDA) instructing him to issue orders to all the "hostel wardens and ashram schools to sign the consent forms on behalf of the adolescent girls to have the vaccine, as contacting parents will be difficult in agency area (Bhadrachalam area)."
The Hindu reports that the Centre suspended the program after seven girls died who had been vaccinated, although the deaths do not appear to be related to the trials. According to the three-member expert subcommittee, the most glaring flaw in the implementation of the project was obtaining consent. "The ambivalent sentences in the consent form tantamount to covert inducement and indirect coercion especially in the light of the high cost of the vaccine," said Rani Kumar, of All-India Institute of Medical Sciences. "This authorisation runs contrary to the basic principles of obtaining consent as students cannot be considered to have full autonomy in front of their teachers," she said.
Committee members expressed concern at unacceptable delays in the reporting of adverse events and deaths, and a lack of independent monitoring systems. "There has been direct contact with the human participants, they have administered an intervention which is not part of a prescribed prevention and have expected adverse events," they reported.
Further, the statement said: "It is a matter of concern that the interests of the NGO, and the business interests of the companies that it represented, received greater priority, while the interests of the Indian people were marginalised. The report brings out the facts clearly. The so-called "post-licensure observation study," has been found to be no less than "a clinical trial on human participants" by the experts." ~ Science and Development Network, May 20; The Hindu, May 13, May 9