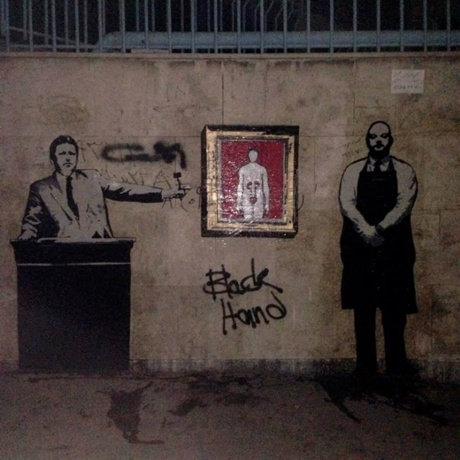 Street art in Tehran depicting an organ auction / The Guardian
The peak body overseeing Iran's kidney trade is lobbying the government for tighter regulation on foreign nationals procuring kidney transplants. According to Mostafa Qasemi, the head of the Charity Association for the Support of Kidney Patients (CASKP), many foreigners are entering the country with false documentation and procuring transplants in from unscrupulous doctors.
"These patients enter the country with false documents; doctors do not examine their documents and are paid millions to carry out a kidney transplant for them", Quasemi said.
Quasemi referred to the case of two Saudi men who recently travelled to Iran and bribed doctors and patients for transplants. One of the Saudi men died, and an ensuing investigation led to the arrest of medical staff and group of people smugglers.
The government has hit back, accusing the CASKP of negligence. Ministry of Health representative Katayoon Najafizadeh said that the CASKP is responsible for issuing permits for all non-familial transplant arrangements. They have failed to ensure fake permits aren't produced and accepted. "The Charity Association for the Support of Kidney Patients is responsible for this situation and must be held accountable", he said.
Iran is the only nation in which the buying and selling of kidneys is legal. The market is regulated by two organisations - the CASKP, an NGO, and the Ministry of Health's Charity Foundation for Special Diseases. More than 2,300 kidney transplants are carried out in the country each year.
This article is published by Xavier Symons and BioEdge under a Creative Commons licence. You may republish it or translate it free of charge with attribution for non-commercial purposes following
these guidelines
. If you teach at a university we ask that your department make a donation. Commercial media must
contact us
for permission and fees. Some articles on this site are published under different terms.