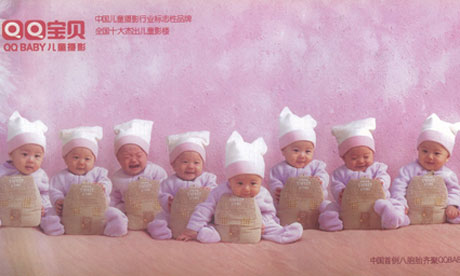 There is an extraordinary story behind the photo above. These babies are allegedly the children of one wealthy couple in Guangzhou. The wife had twins and two surrogate mothers each had triplets. Although the story made national headlines in China late last year, the couple has not been identified – with good reason, for gestational surrogacy is illegal there.
However, the "eight baby scandal" has highlighted the increasing popularity of the black market surrogacy in China. This is the lunar year of the Dragon, which is said to be an auspicious year for births, as the mythical being is associated with power and intelligence.
According to a feature in the UK Guardian, the Guangzhou-based newspaper Southern Metropolis Weekly estimated last year 25,000 surrogate children have been born in China in the past 30 years. There are more than 100 online surrogacy agencies. In the year of the Dragon, they are very busy.
Matching up wealthy parents who want to evade the one-child policy with poor women who need money is a good business for the brokers. Some see it as a disturbing sign of rising inequality. "It's unfair to poor citizens to whom it seems the rich can have as many children as they want," Zhai Zhenwu, director of Renmin University's school of sociology and population told the Guardian." It's another negative signal to society that money can buy anything, when we should be teaching people that the golden key can't open every door."
A columnist for the semi-official China Daily was incensed by China's Octomom. He wrote that surrogacy would inevitably give rise to "a breeder class" of poor women who end up "renting their wombs to wealthy people."