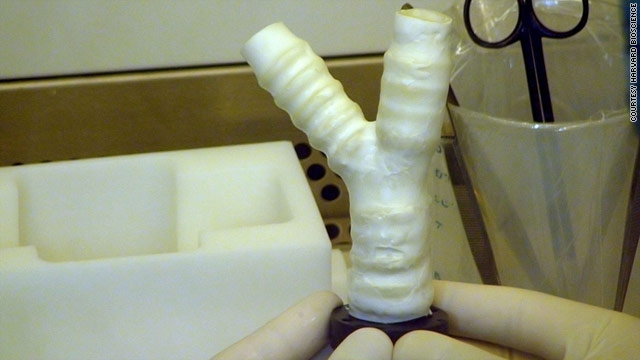 For the first time a working artificial windpipe using a patient's own adult stem cells has been created. A 36-year-old Eritrean man had a rare tracheal cancer which was obstructing his breathing. Doctors at the Karolinska University Hospital, in Stockholm, created a spongy and flexible scaffold made from polymers and seeded it with stem cells. The cells grew on the scaffold over two days and the structure was successfully transplanted on June 9. The man, Andemarian Telesenbet Beyene, a 36-year-old geology student appears to be thriving and went home yesterday. There was no need to wait for an organ donor.
"It's working like a normal windpipe," surgeon Paolo Macchiarini told NPR. "He's able to cough. He's able to expel his secretions. He's breathing normally. He has the sensation he's breathing."
This operation marks a big advance on Dr Macchiarini's landmark operation in 2008 when he replaced the larynx of a Colombian woman with one from a cadaver donor, seeded with stem cells. The new technique bypasses the human donor and is far speedier, an important factor with fast-growing cancers. Because it was made from the patient's own cells, the artificial larynx is not rejected by the immune system.
"It's yet another demonstration that what was once considered hype [in the field of tissue engineering] is becoming a life-changing moment for patients," Alan Russell, of the McGowan Institute for Regenerative Medicine in Pittsburgh, told the Wall Street Journal. ~ NPR, July 8