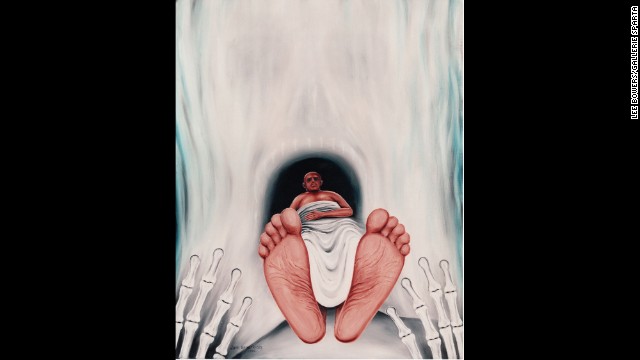 America's best-known practitioner of euthanasia, Jack Kevorkian, was also an artist. After his death in 2011, the ownership of his painting was disputed. However, the legal wrangling is over and 11 of his canvases are for sale at a West Hollywood art gallery. "He was a talented amateur," curator Lee Bowers told CNN. "He painted throughout much of his life."
His "thanatron" is also for sale – the machine which he used to help people to die. The asking price is US$25,000.
The paintings may give some insight into the mind of Kevorkian, a doctor who claimed that he had helped 130 people to die over 20 years. In 1999 he was finally convicted of second-degree murder in Michigan and jailed for eight years.
Kevorkian's style is bold and expressionistic, with garish colours and dramatic, nightmarish images. "Coma" depicts a prone patient being sucked into a death mask which resembles a CAT scan machine. It is typical of Kevorkian's obsession with death.
This article is published by
Michael Cook
and BioEdge.org under a Creative Commons licence. You may republish it or translate it free of charge with attribution for non-commercial purposes following
these guidelines
. If you teach at a university we ask that your department make a donation. Commercial media must
contact us
for permission and fees. Some articles on this site are published under different terms.