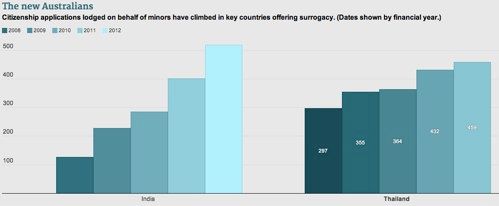 The number of Australians using commercial surrogacy in India has grown dramatically over the past five years. In an interview this week the founder of Australia's peak surrogacy assistance group, Surrogacy Australia, estimated that about 500 couples nationwide engage in overseas surrogacy each year, despite strict legal restrictions in some states.
"Australia, funnily enough, has become one of the largest surrogacy markets internationally because of the perfect storm created by the lack of access to international adoption, women leaving childbirth later on, and the fact we are a wealthy country and women can afford it," said Sam Everingham of Surrogacy Australia.
According to new statistics citizenship applications logged on behalf of minors has risen greatly in countries offering surrogacy (see diagram). Applications from India have increased from 126 in 2008 to 519 in 2012. Applications for Thailand in the same period rose from 297 to 459.
There are strict laws regulating commercial surrogacy in Australia. Compensated surrogacy, both in Australia and overseas, is illegal in NSW. Compensated surrogacy within Australia is illegal under Victorian law, but couples can avail of surrogacy overseas.
Law professor Jenni Millbank of the University of Technology Sydney argues Australia should relax its laws on international commercial surrogacy. "[I don't] mean a profit-driven system, or an incentive system, but one that doesn't make it so hard to do it if people want to do it," she said in a recent presentation to the Fertility Society of Australia.
This article is published by
Xavier Symons
and BioEdge.org under a Creative Commons licence. You may republish it or translate it free of charge with attribution for non-commercial purposes following
these guidelines
. If you teach at a university we ask that your department make a donation. Commercial media must
contact us
for permission and fees. Some articles on this site are published under different terms.