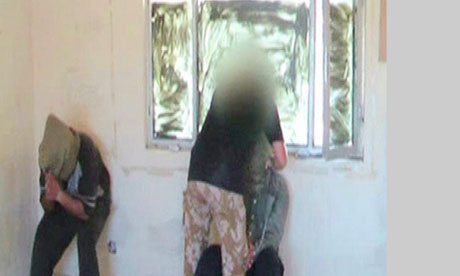 A British Army doctor was deregistered in the UK in December for failing to treat an Iraqi man who had been tortured by British troops and for failing to protect vulnerable detainees. Derek Keilloh was a 28-year-old regimental medical officer in Basra in 2003 who had very little preparation for his role in pre-deployment training.
British troops hooded and beat to death an innocent man named Baha Mousa. Although a post-mortem showed that he had 93 separate injuries, Keilloh maintained that he had seen no injuries, apart from a nosebleed. He stuck to this story throughout a lengthy inquiry, even under oath.
The Medical Practitioners Tribunal Service said that Keilloh, now practicing as a GP in North Yorkshire, was competent and highly respected. However, he had failed in his duty to the detainees. "Given the national and international importance of these investigations and the need to uncover the truth of what took place, your repeated dishonesty was wholly unacceptable," the tribunal told him. Keilloh will probably appeal the judgement.
Steven Miles, an American bioethicist who has studied the responsibilities of doctors in wartime, says in the American Journal of Bioethics that medical board punishments like this are uncommon because governments protect doctors who are complicit in torture. Partly because some US doctors failed to report torture of detainees during the War on Terror, the World Medical Association pushed through a resolution that doctors have an ethical duty to document and report mistreatment. No American doctors have been sanctioned, says a disappointed Miles, for failing to report torture. In one egregious case, he writes,
[a man called] "Hemdan Haby Heshfan Gashame died instantly after a soldier shot him at close range inside his cell. Knowing this history, a medical officer examined the body in the cell, noted a bullet entry wound under the chin and blood on the back of his clothes and wrote on the death certificate, 'I could not make a cause of death since I am not a licensed pathologist.'"
Miles says that the British tribunal's decision was good news.
"Holding Baha Mousa's physician accountable for failing to report that death by torture and for not speaking on behalf of prisoners who were similarly at grave risk of abuse is a bracing instance of self policing professionalism. It makes the polite silence of medical communities that let their torturers live among them all the more embarrassing."
This article is published by
Michael Cook
and BioEdge.org under a Creative Commons licence. You may republish it or translate it free of charge with attribution for non-commercial purposes following
these guidelines
. If you teach at a university we ask that your department make a donation. Commercial media must
contact us
for permission and fees. Some articles on this site are published under different terms.