Australian euthanasia movement gets $5 million bequest
by Michael Cook | 16 Apr 2008 |
Australian activist Dr Philip Nitschke has A$5 million in his war chest after a bequest from a recently deceased politician to promote the legalisation of euthanasia. Clem Jones, the former Labor lord mayor of Brisbane, the capital of Queensland, died in December but the details of his will only emerged this week. He also left $5 million for stem cell research into brain damage, $5 million for research into macular degeneration of vision and $2 million to campaign for an Australian republic. "We are heartened by the donation," said Dr Nitschke. "Not only the large amount of money, but because it was [given] by someone who commanded a great deal of respect... it will give this issue a degree of legitimacy." In his will Mr Jones said that his bequest was inspired by his wife's painful battle with illness before her death in 1999.
Meanwhile Dr Nitschke is busy giving euthanasia workshops… click here to read whole article and make comments
Founder of home-delivered sperm website jailed in UK
by Michael Cook | 16 Apr 2008 |
Procreation and profit don't mix. That seems to be the message of the conviction of the founder of a website which supplied sperm to lesbians who wanted children. John Gonzalez – "Seedy Gonzalez" to the tabloids -- who launched the website ManNotIncluded.com amidst much ballyhoo in 2002, has been jailed for 16 months for fraud and forgery. In Britain government regulations only covered frozen sperm and Mr Gonzalez promised his clients fresh stuff, home-delivered. Although he spruiked himself as a crusader for women's rights, he apparently exploited the single women and lesbians who paid him £750 to register with the site and another £80 to search the database. He diverted £185,000 from the company for personal use, leaving numerous creditors, including a courier company owed £21,000. He also forged documents and made false claims to the liquidator of the company. Although Gonzalez claimed that about 20 pregnancies resulted from his company's services,… click here to read whole article and make comments
by Michael Cook | 16 Apr 2008 |
Should scientists who use performance-enhancing drugs return their Nobel Prizes? If the figures in a poll conducted by Nature are correct, the Stockholm post office would be very busy, since about 20% of scientists may be using them. Although the poll was taken over the internet without rigorous statistical standards, it does suggest that scientists, especially the younger generation, are not opposed to "cognitive enhancement". It is the largest survey to date on this topic, with 1,427 responses. One in five said that they had used Ritalin, Modafinil or beta-blockers to stimulate their focus, concentration or memory. About a third of the drugs were purchased over the internet.
Although most scientists did not use the drugs, 80% of those surveyed defended the right of "healthy humans" to use them to improve performance. More than half said that their use should not be restricted, even for university entrance exams. Still more significant,… click here to read whole article and make comments
Nature joins 'pregnant man' debate
by Michael Cook | 16 Apr 2008 |
Every editor loves stories which spark an Oooh! Wow! or Yuck! from readers – even BioEdge. A few weeks ago we dug up an obscure story on a transgender man, originally female, who had announced in a gay and lesbian paper in Los Angeles that he was pregnant. But it wasn't obscure for long. This was a story with legs, as they say in the trade. Soon Thomas Beatie, sporting a light beard and a swelling midriff, was being interviewed by TV host Oprah Winfrey, who said that it was "a new definition of what diversity means for everybody". Finally the story reached the Olympian heights of the media pyramid when Nature, the world's leading science journal, dedicated an editorial to Mr/Ms Beatie.
Nature backed Oprah, albeit for more high-falutin reasons. Evolution rightly makes us wary of "unnatural" behaviour, but this means that emotion submerges human rationality.… click here to read whole article and make comments
Neuroscience oversimplifies, says Harvard law prof
by Michael Cook | 16 Apr 2008 |
A fascination with the brain, and the conviction that all of human behaviour can ultimately be attributed to neuronal activity has led to disciplines as varied as neuroethics, neurotheology, neuroeconomics, neurohistory, neuroaesthetics, and even neurolaw. However, this last has copped a pasting in an article by a lecturer at Harvard Law School. In a stinging critique of the "neuroeverything craze" Amanda Pustilnik argues that talk of the neurobiology of violence is just the latest chapter in law's ill-starred love affair with the biological roots of criminality. She links today's use of neuroscience in criminal law to discredited disciplines like phrenology (criminal bumps on your head), Lombrosian biological criminality (criminals look sub-human), or lobotomies (an ice pick in a criminal's frontal lobe will fix him up quick).
Reducing all human behaviour to changes in the brain is not just philosophically questionable, contends Ms Pustilnik, it fails to take into account how the… click here to read whole article and make comments
More skirmishes in UK debate over fertility bill
by Michael Cook | 16 Apr 2008 |
The approach of a debate over revisions of the UK's fertility bill is stirring up a confusing dust storm of controversy in the British media. In one of the latest developments, the outspoken head of the Catholic Church in Scotland, Cardinal Keith O'Brien, has appeared in a YouTube video arguing that the creation of hybrid embryos is immoral and unnecessary. Other opponents of hybrid embryos have challenged licences which have already been given to two research teams to created them. The Lawyers' Christian Fellowship and the lobby group Comment on Reproductive Ethics hope to show that hybrids are outside what is permitted under current legislation and that the UK's fertility watchdog erred in allowing them.
In another late development, it appears that the revised act might allow deaf parents to create deaf embryos. British parents are already allowed to screen out embryos with serious medical conditions so that they can have a healthy child. Now it… click here to read whole article and make comments
Germany liberalises stem cell law
by Michael Cook | 16 Apr 2008 |
Germany has loosened restrictions on embryonic stem cell research after a long debate -– but creating embryonic stem cells there is still banned. German scientists will now be able to import human embryonic stem cells which were created before May 1, 2007, increasing the number of stem cell lines available for research from 40 to 500.
The German debate over stem cells would be familiar to Americans, Britons or Australians. The issues and the opposing teams are more or less the same. But many Germans remember that doctors and scientists did appalling medical experiments on inmates of Nazi death camps. Hence, despite their generally progressive social policies, German lawmakers have exasperated scientists by refusing to authorise the creation and destruction of embryos for their experiments.
Until now, German researchers could only work on stem cell lines created before January 1, 2002. Reactions to the changes were mixed. The head… click here to read whole article and make comments
'Ridiculous' transplant law leaves mother in lurch
by Michael Cook | 16 Apr 2008 |
A British mother has complained that her daughter's kidneys were given to strangers when they could have helped her. Rachel Leake, 39, has kidney failure. When her daughter 21-year-old daughter Laura died after an asthma attack, Ms Leake suggested that she be given a kidney. Laura had expressed her interest in being a living donor and would certainly have approved, said her mother. However, sticking to the letter of the law, hospitals authorities gave Laura's kidneys and her liver to needier patients.
The head of the Human Tissue Authority, Adrian McNeil, told the BBC: "The central principle of matching and allocating organs from the deceased is that they are allocated to the person on the UK Transplant waiting list who is most in need and who is the best match with the donor. In line with this central principle, a person cannot choose to whom their organ… click here to read whole article and make comments
The globalisation of baby-making
by Michael Cook | 16 Apr 2008 |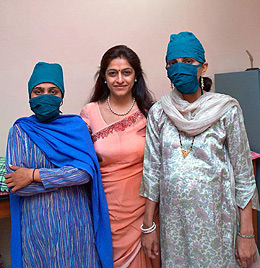 Surrogacy is an issue which divides feminists. Viewed through the lens of "choice", it could be seen as a positive step. Viewed through the lens of female identity, it seems regressive, as it involves turning the body into a cog in a production process. Ellen Goodman, a veteran columnist for the Boston Globe, expressed her misgivings in a column about the international baby-making market.
"Nevertheless, there is -- and there should be -- something uncomfortable about a free-market approach to baby-making. It's easier to accept surrogacy when it's a gift from one woman to another. But we rarely see a rich woman become a surrogate for a poor family. Indeed, in Third World countries, some women sign these contracts with a fingerprint because they are illiterate.
"For that matter, we have not yet had stories about the contract workers for whom pregnancy was a dangerous occupation, but we will. What… click here to read whole article and make comments
Facts emerge over euthanasia cause celebre in France
by Michael Cook | 10 Apr 2008 |
The suicide of Chantal Sébire, a retired 53-year-old French teacher with three children, has created a tsunami of sympathy for euthanasia in France. Ms Sébire suffered from esthesioneuroblastoma, a rare and terribly disfiguring cancer of the sinuses. Her photo on the internet is almost too painful to look at -– she became like one of the more grotesque orcs in the film of The Lord of the Rings.
In February Ms Sébire made a public appeal to the French president to allow her to die through euthanasia. She stated that "One would not allow an animal to go through what I have endured." A tumultuous public debate ensued, but the courts refused her request on March 17. On March 19 she killed herself with a huge dose of the lethal drug pentobarbital.
In the wake of her suicide, a Paris Match… click here to read whole article and make comments
Be a fan of BioEdge on Facebook