New arguments surface in embryo debate
by Michael Cook | 5 Dec 2008 |
After ten years, the US debate over the ethics of embryo research drags on without an end in sight. Opinion polls, though often unreliable, suggest that most Americans are in favour of embryonic stem cell research as a way of curing dread diseases. At the same time, many couples have inarticulate misgivings about donating their "spare" IVF embryos for research. The battle lines between informed supporters and informed foes are as clear and unyielding as ever. Even though the incoming President has promised to undo Bush's restrictions, the terms of the debate have changed very little.
So it was interesting to see new rhetorical weapons deployed in an article by Ronald M. Green, of Dartmouth College, in the latest issue of the Journal of Medical Ethics. Green, who must surely be on Obama's short list of possible bioethics advisors, comes from the libertarian fringe of mainstream bioethics. In his most recent book,… click here to read whole article and make comments
Non-invasive tests to target birth defects
by Michael Cook | 5 Dec 2008 |
There has been more progress towards a non-invasive test which can detect genetic disorders in a foetus. In a study in the Proceedings of the National Academy of Sciences, researchers found that they can tell whether an unborn child suffers from inherited monogenic disorders such as cystic fibrosis and sickle cell anaemia by analysing a blood sample taken from the mother. The baby's DNA, scientists have discovered, floats in its mother's blood.
However, the researchers admitted that the technology for a non-invasive test is currently expensive and inefficient, and that clinical trials are at least three years away. Earlier this year Sequenom, a company in San Diego, and Stanford University both announced that they had developed tests which can detect Down Syndrome and other chromosomal disorders from a maternal blood sample. ~ Wall Street Journal, Nov 25
click here to read whole article and make comments
Bush broadens conscience exemption in dying days of office
by Michael Cook | 5 Dec 2008 |
The Bush Administration is creating bioethical headaches for its successor even in as its candle gutters into history. It is planning to announce a broad new "right of conscience" rule which will allow medical facilities, doctors, nurses, pharmacists and other healthcare workers to refuse to participate in procedures they find morally objectionable. These definitely include abortion and possibly even artificial insemination and birth control.
The new rule will make it clear that health employees may also refuse to provide information or advice about abortion. It also will exempt employees who are remote from the actual procedure, such as nurses who are asked to clean up after an abortion. According to the Health and Human Services Department, the rule will cover any entity that receives federal funds. It estimated 584,000 of these could be covered, including 4,800 hospitals, 234,000 doctor's offices and 58,000 pharmacies.
HHS says the proposed rule is needed because of an attitude "that… click here to read whole article and make comments
Is matching conscientious objectors with like-minded patients a solution?
by Michael Cook | 5 Dec 2008 |
With conscientious objection and "conscience clauses" becoming more prominent in bioethical debates, especially over abortion, novel ideas in new book could well frame the debate in the US. "Conflicts of Conscience in Health Care: an institutional compromise" has been written by a Washington DC lawyer, Holly Fernandez Lynch. It even attracted the attention of the President's Council on Bioethics and Ms Lynch addressed one of the Council's last sessions. The Council is working on a white paper on the issue of conscientious objection.
Ms Lynch believes that she has found a solution to the intractable problem of reconciling a patient's autonomy and access to care with a doctor's conscience and his ability to refuse. She wants state medical licencing boards to be responsible for registering a doctor's moral beliefs and matching up doctors with like-minded patients.
Such a system would ensure that refusals would not leave patients high and dry. It would accommodate their… click here to read whole article and make comments
Alas, the good news was actually bad news
by Michael Cook | 5 Dec 2008 |
Last week there was heartening news for British Down syndrome lobby groups. A BBC radio documentary claimed that more women are choosing to keep Down syndrome children rather than abort them. However, this was just wishful thinking, according to an information service on the web run by the National Health Service. True, the number of Down syndrome children born increased slightly, but the number conceived had skyrocketed because of the growing proportion of older mothers. And these aborted them after a pre-natal diagnosis:
"Although the number of Down's syndrome babies being born is up 4% since testing was introduced, it would have been expected to jump by an estimated 50% had testing and termination not been available (about 700 additional Down's births in 2006). This is because many women now have babies later in life when the chances of having a Down's syndrome child are considerably greater.
"Currently, 92% of women who receive an antenatal… click here to read whole article and make comments
Stem cell science becomes stem cell medicine
by Michael Cook | 26 Nov 2008 |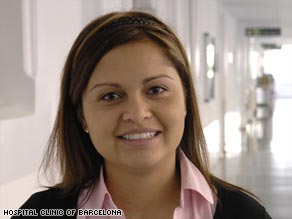 A Colombian woman has become the world's first recipient of an organ grown in the laboratory from stem cells. The windpipe (bronchus), of Claudia Castillo, 30, had collapsed because she had suffered from tuberculosis. Scientists at the Hospital Clinic of Barcelona created a new windpipe from her own stem cells and transplanted it. The operation appears to be a success and Ms Castillo needs no immune suppressant drugs because the stem cells were her own.
Roger Highfield, editor of the New Scientist, expressed the jubilation of many scientists: "The science of healing is developing so quickly that it has become almost a cliché to describe a particular operation as a 'breakthrough'. Yet there is no doubt that the first successful transplant of a human windpipe, constructed partly from stem cells, is an astonishing milestone – one that could indeed mark the start of a new era in medicine."
Down syndrome births rising in UK
by Michael Cook | 26 Nov 2008 |
The number of children in the UK born with Down syndrome rose between 2000 and 2006 by about 15%. According to the Down's Syndrome Association, nowadays more parents simply feel that life and society have improved for people affected by Down's. Religious or pro-life beliefs were only a factor in about a third of the parents surveyed by the association. Others said that they had been influenced by personal acquaintance with Down syndrome people.
Carol Boys, the association's CEO, was stunned. "We are all very surprised by this. It wasn't what any of us working in the field would have anticipated and it seems to show more parents are thinking more carefully before opting for pre-natal screening and termination –- that being born with Down's syndrome is being seen in a different light today.
"When I and others had our babies, it was a very different world – those with Down's… click here to read whole article and make comments
Oxford bioethics centre comes under fire
by Michael Cook | 26 Nov 2008 |
A UK philosopher has made a stinging attack on Julian Savulescu's Uehiro Centre for Practical Ethics at Oxford University. In an address to students at Oxford Professor David Oderberg, of the University of Reading, says that it should be radically reformed or closed. Dr Savulescu is the founding director of the centre, which has nurtured a utilitarian and libertarian view of bioethics.
"Radical reform would require a complete reorientation of its approach to bioethics. It should cease being a mouthpiece for biotechnology and should abandon scientism as its fundamental ideology or dogma. It should bring all sides within its borders, including the significant minority of bioethicists who are opposed to the general trend of bioethics and many of its specific ideas," said Dr Oderberg. His talk is to be published in a forthcoming issue of the Human Life Review, an American publication.
He also suggests that… click here to read whole article and make comments
Successful ovary transplant could lead to later motherhood
by Michael Cook | 26 Nov 2008 |
A British woman has given birth after a successful ovary transplant from her identical twin. The operation was carried out in St Louis, Missouri, by Dr Sherman Silber, on two 39-year-old women.
Dr Sherman believes that the technique, when perfected, will help women conceive even after cancer treatment which would otherwise have left them infertile. Doctors will remove an ovary, freeze it, and later on implant it. However, the "overwhelming usage" will be women who want to defer child-bearing until they feel ready for it.
"We are in the midst of an infertility epidemic which has become an enormous public problem," he told the London Telegraph. "The reason is that women have opportunities they didn't have before, they do not want to commit to a relationship until they are sure it is the right one, they want to get the degree, save a little money and buy the nice flat.… click here to read whole article and make comments
by Michael Cook | 26 Nov 2008 |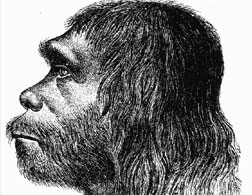 It's a daunting challenge, but some scientists are considering it: cloning a Neanderthal. Nature recently reported that scientists have recovered a substantial amount of DNA from hair balls preserved in frozen woolly mammoths. They speculated that it might be possible to clone one of these beasts by inserting mammoth DNA into the egg of an African elephant. The ancient DNA is quite fragmented, but with new techniques -- and another US$10 million -- it may be possible to reconstruct a complete genome.
If a mammoth, why not a Neanderthal?
There are some sticky ethical issues. One of the techniques involves modifying a human genome to become a Neanderthal genome. Another contentious issue is that the Neanderthal, who is human, would be cloned. At the moment, nearly every government is adamantly opposed to reproductive cloning.
But Dr George Church, a genome technologist at Harvard Medical School has a fix in mind.… click here to read whole article and make comments
Be a fan of BioEdge on Facebook