Pressure mounts for commercial surrogacy in Australia
by Michael Cook | 3 Dec 2016 |
As clinics offering cheap surrogacy overseas shut their doors to foreigners, pressure is mounting in Australia to permit commercial surrogacy.
In an article in this month's Australia and New Zealand Journal of Obstetrics and Gynaecology, an IVF doctor and a surrogacy broker argue that most Australians support commercial surrogacy and that the laws should be changed to permit it as long as it is carefully regulated. They report that most respondents to an online survey thought that the surrogate mothers and the intending parents should negotiate a price, although some thought that a fixed figure of $15,000 would be adequate.
Co-author Professor Kelton Tremellen told the ABC that if legalisation were in place Australians could find a local surrogate "instead of being desperate and going to developing countries". Professional guidelines could include age restrictions on surrogates, mental health checks, mandatory cooling-off periods and adequate counselling.
…
click here to read whole article and make comments
Another abortion battle in Texas, this time over how to dispose of tissue
by Michael Cook | 3 Dec 2016 |
Disposing of aborted embryos has become a major political and ethical dispute in Texas. As of December 19, new regulations from the Health Department will force abortion clinics and hospitals to cremate or bury foetal tissue, no matter what the stage of development. Texas will be the first state to require this.
Until now, clinics in Texas used third-party special waste services for fetal remains. Previous rules permitted foetal remains to be combined with other medical tissue, ground up and treated as sewage, incinerated, or handled by some other approved process before being disposed of in a landfill.
The new rules are the latest battleground over abortion rights in Texas. Back in June, the US Supreme Court struck down Texas regulations which required abortions to be performed in hospital-like surgical centers and for doctors to have admitting rights in nearby hospitals. If implement, these regulations might have… click here to read whole article and make comments
Is there a last-minute hitch with 3-parent embryo trials?
by Michael Cook | 3 Dec 2016 |
Just as scientists in the UK are about to begin clinical trials with three-parent embryos, a study in Nature asserts that it may not work for some patients.
The technique is intended to help women who are carriers of mitochondrial disease to give birth to healthy children. The nuclear DNA is removed from an egg cell, leaving the diseased mitochondria behind; then the DNA is inserted into another woman's denucleated egg to make use of her mitochondria; and then the egg is fertilised. The resulting embryo will grow, hopefully, into a disease-free infant with three genetic parents.
One hitch is that, with current techniques, some of the rogue mitochondrial DNA is dragged into the new cell along with the nuclear DNA. It was thought that this would be too small to matter. However, a paper published this week in Nature by mitochondrial geneticist Shoukhrat… click here to read whole article and make comments
The complications and practicalities of cryopreservation
by Michael Cook | 3 Dec 2016 |
Someday we might get the technique right
The publicity surrounding the cryopreservation of the body of a 14-year-old British JS after her death from cancer has prompted more commentary.
Heather Conway, of Queen's University Belfast, ruminated on the legal complications arising from reanimation after decades or even centuries on ice.
From a legal perspective, the problems are obvious – starting with the fact that the person has already been declared legally dead. How would, how could, the law reinstate them? Could that person reclaim assets that they owned in life, but had passed to family members on death? Could inheritance laws be undone? And if the person's spouse is still alive but has now remarried, would that marriage still be valid when the former partner returns from the dead? Even before this happens, what is the status of the corpse… click here to read whole article and make comments
Behind US assisted suicide stats
by Michael Cook | 3 Dec 2016 |
The farewell party for Betsy Davis
A debate in the American state of Iowa over the legalisation of assisted suicide prompted the Des Moines Register to survey how well in works.
In California, where it became legal on June 9, stories are already emerging that the letter of the law is not being observed. California multi-media and performance artist Betsy Davis died on July 23, one of the first to take advantage of the new law. She had ALS and since she was too weak to drink the lethal drugs herself, she was propped up by friends and someone, following instructions from a doctor, held the cup for her – which was probably illegal. The standard lethal drug, Seconal, was not available, so her friends mixed up a cocktail of drugs, hoping that they would work properly. She… click here to read whole article and make comments
Interview: Philip Nitschke on life in the Netherlands
by Philip Nitschke | 28 Nov 2016 |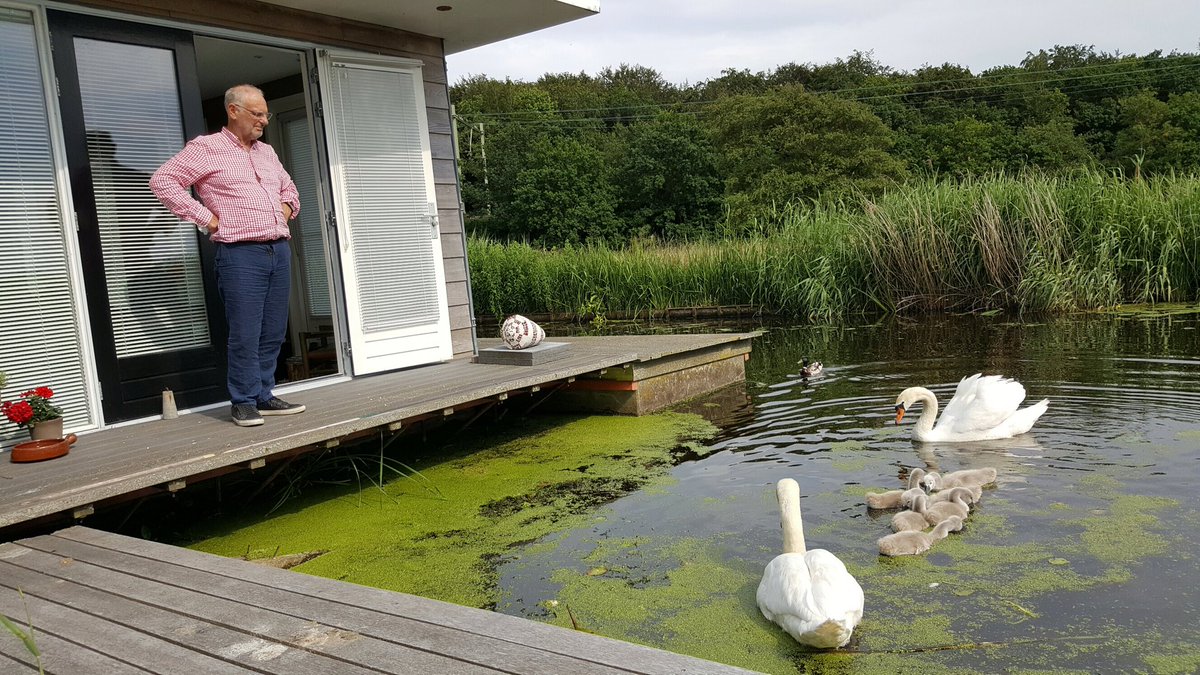 Life on a Dutch houseboat
Dr Philip Nitschke is probably the world's best-known activist for assisted suicide. Yesterday he declared that the UK government should offer prisoners sentenced to life without parole the option of taking a lethal euthanasia drug like Nembutal. "To do less is cruel and inhumane," he told the media.
Although he is an Australian, he and his wife recently relocated to the Netherlands where he continues with his work. BioEdge asked him why he moved house and what it means for the organisation he founded, Exit International.
****
BioEdge: Why have you moved to the Netherlands? When did you decide?
Philip Nitschke: I moved to the Netherlands with my wife because we needed to publish the Peaceful Pill eHandbook in multiple languages. Being in the midst of the European Union was essential for that. The need… click here to read whole article and make comments
Australian nurse arrested in Cambodia's surrogacy crackdown
by Xavier Symons | 26 Nov 2016 |
Tammy Davis-Charles being interviewed by Cambodian police
An Australian nurse and fertility entrepreneur has been arrested in Cambodia after a government crackdown on commercial surrogacy.
Tammy Davis-Charles, 49, was arrested by Cambodian anti-trafficking police last weekend and stands accused of human trafficking and falsifying documents -- charges which carry up to a two year sentence.
The charges were brought against Ms. Davis-Charles after authorities began to monitor her Phnom-Penh surrogacy business, Fertility Solutions PGD.
Ms. Davis-Charles' clinic matches would-be parents with surrogate mothers -- typically poor Cambodian women. The clinic had catered mainly to Australian couples, but some clients were from other nations such as the US.
Chou Bun Eng, Cambodia's Secretary of State for the Ministry of Interior, is leading the country's anti-human trafficking efforts.
…
click here to read whole article and make comments
Staggering discarded embryo figures released in UK
by Xavier Symons | 26 Nov 2016 |
New official figures indicate that close to 2.5 million embryos have been discarded in the UK since IVF was brought under a comprehensive regulatory framework in 1991.
The figures were released by Lord Prior of Brampton, Parliamentary Under-Secretary of State for Health, in response to a written question from Lord Alton of Liverpool.
The records of the UK's fertility watchdog, the Human Fertilisation and Embryology Authority. show that 1,687,260 embryos have been transferred to uteri since 1991, and 2,315,262 destroyed.
In the period from 1 July 2014 – 30 June 2015, 84,044 were transferred, and 172,184 destroyed. The figures come as UK fertility clinics celebrate 250,000 babies born by IVF in the country.
With an increase in IVF success rates, fertility specialists say that more women in the UK are using assisted reproductive technology. In… click here to read whole article and make comments
More gay couples using surrogates in US
by Xavier Symons | 26 Nov 2016 |
An informal study by a fertility data service suggests an increasing number of gay couples in the US are turning to surrogacy.
The study -- conducted by Fertility IQ on behalf of the Chicago Tribune -- involved data from fertility clinics in more than 10 cities.
The results, as reported in the Tribune, "indicate that 10 to 20 percent of donor eggs are going to gay men having babies via surrogacy, and in a lot of places the numbers are up 50 percent from five years ago."
Surrogacy for gay men in the US was "unheard of" five years ago, according to Eve Feinberg, an assistant professor of obstetrics and gynecology at Northwestern University's Feinberg School of Medicine.
But Jake Anderson, Fertility IQ co-founder, says the practice will become increasingly common.
US conservative tries new tactic against animal research: calling it a waste of money
by Michael Cook | 26 Nov 2016 |
Anthony Bellotti addresses White Coat Waste meeting in Washington DC
Opposition to research on animals is generally viewed in the US as a cause supported by loopy lefties and disdained by conservatives. But a Republican political strategist who worked on campaigns against Obamacare and Planned Parenthood is using his skills to stop government funding for animal research. Anthony Bellotti has launched a group called White Coat Waste which describes animal research as a waste of taxpayer dollars. "That story was being told in the Planned Parenthood and Obamacare debates, but not in the anti–animal research movement," he told Science. "I wanted to unite the animal lovers and the liberty lovers."
Earlier this month White Coat Waste opened fire with a Capitol Hill briefing earlier this month co-sponsored by a tax hawk Republican and a PETA supporting Democrat. They are working together… click here to read whole article and make comments
Be a fan of BioEdge on Facebook