Should psychiatrists tell voters what they think about Trump?
by Xavier Symons | 18 Jun 2016 |
Despite Hilary Clinton's recent claims that Donald Trump is temperamentally unsuited to be president and her suggestion that he may be unhinged – clinicians have steered clear of volunteering their professional opinion in the public forum. There is a reason for this.
According to an American Psychiatric Association regulation known informally as The Goldwater Rule, psychiatrists are not allowed to volunteer their opinion on the mental health of a public figure without having had a private consultation with the individual, and, what's more, received their authorization to make a public statement. There is provision, however, for psychiatrists to comment on more general issues of mental health (and this often happens). A very similar rule applies to psychologists.
The advantage of this is, according to Susan H. McDaniel, president of the American Psychological Association, that psychiatrists and psychologists don't give the impression of having "a professional… click here to read whole article and make comments
Bioethicists clash over death of 5-year-old
by Xavier Symons | 18 Jun 2016 |
Julianna Snow and her family
Julianna Snow, a terminally ill five-year-old girl who captured the worldwide attention with the CNN program Heaven Over Hospital, has died in her family home in Portland, Oregon.
Snow suffered from a common inherited neurodegenerative condition called Charcot-Marie-Tooth Disease – a condition that damages the nerves affecting certain muscles. In most cases, the effects of the disease are confined to the arm and leg muscles, but in Julianna's case it affected muscles needed for chewing, swallowing and even breathing.
After undergoing painful medical, Julianna expressed to her parents a desire to forgo treatment even if it meant her death. "She made it clear that she doesn't want to go through the hospital again," her mother Michelle explained in a CNN documentary. "So we had to let go of that plan because it was selfish."
When will transgender women deliver babies?
by Michael Cook | 18 Jun 2016 |
from Scientific American / Getty Images
If we welcome transgender women, are transgender mothers a big deal? Although surgeons are still mastering the technique of transplanting wombs, patients are already asking when this will become possible.
At the moment, the only team which has succeeded in transplanting a uterus into a woman who later gave birth is in Sweden. Dr Mats Brännström developed the operation to help women who had been born without a uterus or who had to have hysterectomies. But elsewhere in Europe and in the US doctors are attempting the daunting surgery and it has been widely publicized. Scientific American spoke to several doctors who said that a handful of their transwomen patients were interested, even though it is still far from successful.
"A lot of this work [in women] is intended to go down that road but… click here to read whole article and make comments
Orlando massacre signals a public health crisis – AMA
by Xavier Symons | 18 Jun 2016 |
In the wake of the Orlando massacre, the American Medical Association has labelled gun violence a "public health crisis" and called on Congress to fund research into gun related crime.
At the Association's Annual Meeting this week, delegates passed a motion that called for "a comprehensive public health response and solution" to gun crime. Additionally, the AMA resolved to actively lobby Congress to overturn legislation that for 20 years has prohibited the Centers for Disease Control and Prevention (CDC) from researching gun violence.
"With approximately 30,000 men, women and children dying each year at the barrel of a gun in elementary schools, movie theaters, workplaces, houses of worship and on live television, the United States faces a public health crisis of gun violence," said AMA President Steven J. Stack, M.D..
The AMA has adopted strong positions on gun control and licensing since the late 1980s.
Republicans in Congress… click here to read whole article and make comments
Chinese surgeon is planning a body transplant
by Michael Cook | 18 Jun 2016 |
Another Chinese scientist is stretching medical ethics to the breaking point. According to the New York Times, Dr. Ren Xiaoping of Harbin Medical University, is planning to do a body transplant. Several patients have already volunteered for the daring experiment, which involves attaching the head of a live person to the body of a cadaver.
At the moment the procedure seems impossible, as it seems almost impossible to reconnect the nerves in the spinal column.
But Dr Ren is eager to try. "I've been practicing medicine in China and overseas for more than 30 years," he told the Times. "I've done the most complicated operations. But compared to this one, there's no comparison … Whether it's ethical or not, this is a person's life. There is nothing higher than a life, and that's the core of ethics."
Leading medical experts, even in China, have condemned the… click here to read whole article and make comments
Chinese clinics advertise for sperm donors
by Michael Cook | 18 Jun 2016 |
Chinese IVF centres are offering better and bigger rewards as they are failing to recruit enough sperm donors. According to the New York Times, men between 20 and 45 are being offered as much as US$1000 and deluxe iPhones for their contributions.
After decades of a one-child policy, China faces a demographic crisis, with an ageing population and a contracting workforce. Couples are now legally able to have a second child, but many of them have fertility problems. Ironically, it seems, China does not have enough people. The Times observes that clinics are trying all sorts of strategies:
Some sperm banks have tried to appeal to feelings of patriotism, as China grapples with an aging population and a diminishing work force. "Show your compassion," an article on a state-run news site urged men this year. "Help mitigate the country's aging problem."
Appeals to… click here to read whole article and make comments
Pope attacks culture of 'perfect people'
by Michael Cook | 18 Jun 2016 |
Pope Francis has made a stinging, if familiar, attack on the bioethics of a consumer society in an address in Rome. He decried the tendency to search for the perfect body and to warehouse the disabled out of sight to avoid offending the sensibilities of the "privileged few".
In an age when care for one's body has become an obsession and a big business, anything imperfect has to be hidden away, since it threatens the happiness and serenity of the privileged few and endangers the dominant model.

Such persons should best be kept apart, in some "enclosure" – even a gilded one – or in "islands" of pietism or social welfare, so that they do not hold back the pace of a false well-being. In some cases, we are even told that it is better to eliminate them as soon as possible, because… click here to read whole article and make comments
A surprising ethical conversion
by Michael Cook | 18 Jun 2016 |
Dr Henry Knowles Beecher
A famous article in an issue of the 1966 New England Journal of Medicine was the trigger for the construction of contemporary medical ethics. The author, Professor Henry K. Beecher, an anesthetist at Harvard Medical School, declared that many American researchers were behaving unethically in their research. They were, he alleged, harming subjects and performing experiments without informed consent or even informing them that they were being used as guinea pigs. The article incensed doctors who felt that he was exaggerating, but it led to the establishment of institutional review board system which characterizes modern bioethics.
However, the doctor who became the first Henry Knowles Beecher Professor of Anesthesia at Harvard Medical School, James P. Rathmell, has reviewed Beecher's career and discovered some surprising inconsistencies in his life. Although he was an outstanding doctor, he was "a little bit… click here to read whole article and make comments
by Michael Cook | 18 Jun 2016 |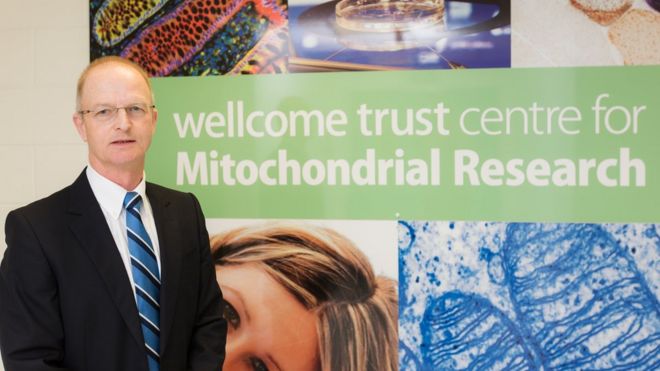 Was a Queen's birthday knighthood part of a publicity campaign?
Every year Queen Elizabeth doles out titles to her subjects in the Birthday Honours List. It's always a moment of congratulation and controversy (and envy) as some of them become "Sirs" and "Dames". This year the leading figure for congratulations is singer Rod Stewart, now Sir Roderick.
Amongst the controversies is Professor Doug Turnbull, now Sir Douglass, a director of the Wellcome Trust Centre for Mitochondrial Research. The gong came very quickly after some unwelcome publicity for the three-parent embryo solution to mitochondrial disease. Although Wellcome spun Professor Sir Douglass's recent Nature paper as a vindication of the procedure's safety, some scientists expressed serious doubts.
From California, stem cell scientist Paul Knoepfler wrote:
For many of us in the broader scientific community the intensity of the hype surrounding this paper and the misleading narrative about safety was concerning.… click here to read whole article and make comments
Let's increase organ transplant rates by encouraging euthanasia patients to donate, say doctors
by Michael Cook | 11 Jun 2016 |
Since 2005 about 40 people in Belgium and the Netherlands have successfully combined euthanasia with organ donation, according to an article in the Journal of Medical Ethics by ethicists and transplant specialists. The doctors are so enthusiastic about the procedure that they have proposed legal changes which will speed up the procedure and maximize the number of donations. Although the numbers are still low, the idea is becoming more popular in both countries, according to the authors.
(Not everyone – in fact, only a small proportion – of people who request euthanasia are potential organ donors. Most requests come from patients with cancer, which makes them unsuitable donors. Most of the Belgians who have already participated in the programme appear to have suffered from strokes or multiple sclerosis.)
However there are some legal and ethical wrinkles to be ironed out to make the transition from euthanasia to… click here to read whole article and make comments
Be a fan of BioEdge on Facebook