Kuwait becomes first country to demand universal DNA tests
by Michael Cook | 27 Aug 2016 |
Every country in the world examines your passport before you enter. Kuwait is about to become the first to examine your DNA. All citizens, visitors and expatriates will have to provide DNA samples for a government database.
The ostensible motivation for the Gattaca-like measure is greater security in times of terrorism. But it also gives the government a way to exclude about 10% of Kuwaitis from citizenship and expensive social benefits.
According to the Kuwaiti constitution, citizens must be able to prove that they or their forebears have lived in Kuwait since 1920. If this is strictly applied, about 10% of the Kuwaiti population are not citizens. They are Bidoons–Arabs who didn't apply for, or didn't qualify for Kuwaiti citizenship after independence from Britain in 1961. (The name comes from the Arabic words bidoon jinsiya, "without nationality".) There are an estimated 100,000 of them in Kuwait.
Life for… click here to read whole article and make comments
The bleak story of Israel's Yemenite children
by Michael Cook | 27 Aug 2016 |
Yemenite immigrants in a camp in 1950
Stealing children from feckless mothers so that they will have great expectations in the home of a loving, educated couple seems to have been a common practice in the early 20th Century. In Australia, Canada, Spain, Ireland, and Argentina scandalous tales of baby-snatching have emerged in the media.
Less well-known are allegations from Israel. In what has become known as the Yemenite Children Affair, hundreds of babies and toddlers of new arrivals, mainly from Yemen, between 1948 to 1954, were taken from their parents. Mothers were told that their newborn had died; sometimes the children simply disappeared. Stories have surfaced in the media over the years, but the complete history of what happened has not been told, as vital documents have been classified by the government.
This year gut-wrenching memories have again surfaced as activists demand the truth. A cabinet minister… click here to read whole article and make comments
India may ban all commercial surrogacy
by Michael Cook | 27 Aug 2016 |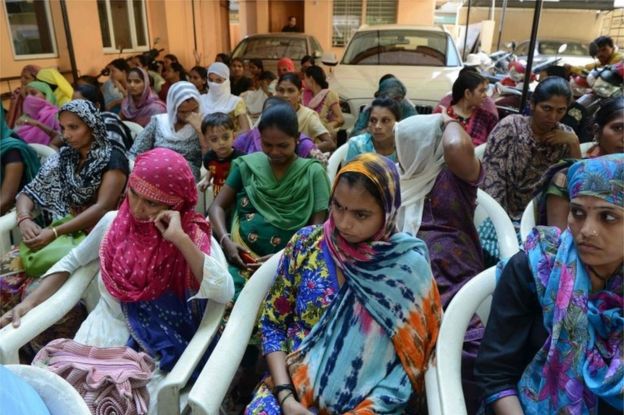 Surrogacy class / BBC
The Indian government plans to impose a complete ban on commercial surrogacy and to permit it only for legally married Indian couples. Surrogacy (Regulation) Bill 2016 would ban unmarried couples, single parents, live-in partners and homosexuals from engaging surrogate mothers. Nothing but altruistic surrogacy would be permitted.
Only "close relatives" would be eligible to be surrogate mothers. A woman would only be able to do it once and she would have to be married and to have borne a child herself. The woman commissioning the child would be the legal mother, not the birth mother. A woman seeking a surrogate child would have to be between 23 and 50 years in age and her husband between 26 and 55 years.
External affairs minister Sushma Swaraj said that there was a real need for regulation now that India has more… click here to read whole article and make comments
Kids with Trisomy 13 and 18 can have good quality of life
by Michael Cook | 27 Aug 2016 |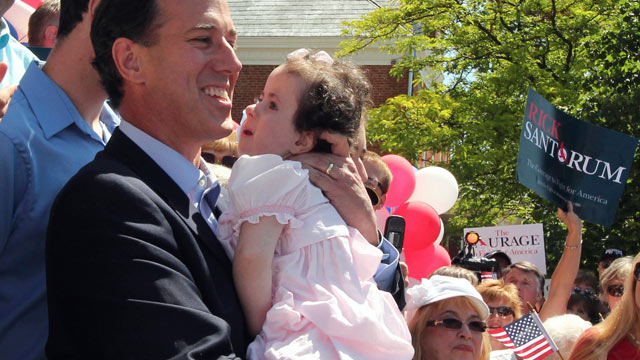 Former Senator Rick Santorum with daughter Bella in 2012
Should babies with Trisomy 13 and Trisomy 18 be given life-sustaining treatment? Both conditions are associated with severe physical and intellectual disabilities and most die children in their first year. So until recently, few of them were treated. Doctors regarded the conditions as "lethal congenital anomalies".
However, according to a surprising study in JAMA, the Journal of the American Medical Association, it turns out that the consensus was wrong. Bioethicist John Lantos, a former President of the American Society of Bioethics and Humanities, commenting on an article about the survival rates, says:
In the age of social media, however, everything changed. Parents share stories and videos, showing their happy 4- and 5-year-old children with these conditions. Survival, it turns out, is not as rare as once thought. Children who were not institutionalized… click here to read whole article and make comments
Marie Stopes abortion services suspended in UK
by Michael Cook | 27 Aug 2016 |
Government regulators have closed some services of a leading abortion provider in the United Kingdom, citing vague concerns about "corporate and clinical governance arrangements and patient safety protocols in specific areas".
After a surprise visit from Care Quality Commission inspectors, Marie Stopes, the "UK's largest reproductive health charity", has had to suspend terminations for under-18s and vulnerable groups of women, terminations under general anaesthetic or conscious sedation, and all surgical terminations at its Norwich centre.
The CQC announced in March that it would carry out inspections of all stand-alone abortion clinics in the UK before the end of September. It wanted to confirm that the clinics were "safe, effective, caring, responsive to people's needs and well-led". Presumably the Marie Stopes clinics failed to meet these requirements.
The restrictions will remain in place until Marie Stopes satisfies the CQC that its concerns have been allayed. "We will… click here to read whole article and make comments
Legal heads-up on decapitation
by Xavier Symons | 26 Aug 2016 |
As a Chinese doctor plans the world's first head transplant, a renowned medical law expert has weighed into the debate.
In a blog post on the Volokh Conspiracy, Duke University law professor Nita Farahany said that the operation – which the international medical community almost unanimously agrees has no chance of success – would likely not even satisfy the legal criteria for consent if it were performed in the US. Interestingly, Farahany contrasts an operation like a head transplant with physician-assisted dying:
…although there has been some liberalization of physician-assisted suicide laws in the United States, active euthanasia is illegal. And although the surgeon here would say that he is not attempting to end the patient's life, it seems as if active euthanasia could be the most lenient characterization of a surgery involving decapitation. Yet, the physician does not intend for the patient to die. Instead, the physician intends… click here to read whole article and make comments
Savulescu calls for ban on doctors' conscientious objection
by Xavier Symons | 25 Aug 2016 |
As politicians in the Australian state of Queensland debate controversial abortion laws, Oxford's Julian Savulescu is calling for a ban on "conscientious objection at the bedside".
In an article in the Sydney Morning Herald on Thursday, Savulescu was quoted as saying:
"When a medical procedure, or one which doctors have a monopoly over, is desired by the patient, in the patient's interests, and is a legal and reasonable use of limited resources, then that procedure ought to be provided by doctors…There is no place for conscientious objection at the bedside in these circumstances."
In a provocative 2006 article in the BMJ, Savulescu argued that conscientious objection could lead to "bigoted, discriminatory medicine", and that in some cases punitive measures should be taken against conscientious objectors.
The Australian bioethicist will deliver a lecture on the topic at Queensland University of Technology's Australian Centre… click here to read whole article and make comments
Provocative new study questions the science of gender
by Xavier Symons | 25 Aug 2016 |

A report on gender and sexuality released by the journal The New Atlantis has met with both praise and criticism from commentators.
Written by Lawrence S Mayer, an epidemiologist, and Paul R. McHugh, a psychiatrist, at Johns Hopkins University Medical School, it is a survey of research from the biological, psychological, and social sciences about sexual orientation and gender identity.
Outlined in the executive summary of the report are the findings that "the understanding of sexual orientation as an innate, biologically fixed property of human beings…is not supported by scientific evidence", and that "the hypothesis that gender identity is an innate, fixed property of human beings that is independent of biological sex… is not supported by scientific evidence."
Sarah McBride, national press secretary for the Human Rights Campaign, said The New Atlantis report is another instance in which Dr. McHugh espouses "his own personal… click here to read whole article and make comments
Baby boomers will clamour for euthanasia, says Udo Schuklenk
by Xavier Symons | 20 Aug 2016 |
The good ol' days of Flower Power
How should we explain the recent success of the assisted dying lobby in the US and Canada?
Bioethicist and euthanasia advocate Udo Schuklenk suggests the baby boomer generation has played a particularly important role in challenging 'antiquated' social conventions about death and end-of-life issues.
In an editorial in the journal Bioethics, Schuklenk suggests that assisted dying is a very relevant issue for the ageing baby boomers (aged between 52 and 70 years), and it now seems to have become a focus for their "revolutionary sentiments":
"It is not terribly surprising, with baby boomer finding themselves – perhaps to their greatest surprise - at the levers of power of the system that they rebelled against in the 1960s and 1970s, that the number of jurisdictions that have decriminalised assisted dying is steadily increasing. Many legislators and judges are… click here to read whole article and make comments
Be a fan of BioEdge on Facebook