Hammering out the details in Canada's new euthanasia regime
by Michael Cook | 20 Dec 2015 |
Last February Canada's Supreme Court declared that denying patients access to assisted suicide and euthanasia is a violation of their human rights. The federal, provincial and territory governments were given a year – until February 6, 2016 -- to enact legislation consistent with its decision.
This week the Provincial-Territorial Expert Advisory Group on Physician-Assisted Dying released a report with points which should be incorporated into legislation throughout Canada. The changes to the legal system and medical practice are massive and unprecedented. There are only two months to go before the Supreme Court's deadline, although the federal government has requested a six-month extension to ensure "a thoughtful, sensitive and well-informed response."
It's hard to predict whether all of the Advisory Group's 43 recommendations will be implemented in all of Canada's 11 jurisdictions. But if they are, Canada will have the world's most advanced euthanasia legislation – even… click here to read whole article and make comments
When Ebola breaks out again, whose fault will it be?
by Michael Cook | 19 Dec 2015 |
The West African ebola outbreak has been largely contained. Now the world can sit back, breathe a sigh of relief and mutter, "that was a wake-up call".
Not.
The message of two ethicists from the University of Toronto is that the Ebola epidemic signals a profound moral failure on the part of complacent Western nations. Like an alarm clock at the bedside, they keep hitting the snooze button rather than grapple with the hard questions of developing emergency plan and fixing battered healthcare systems. "We either have collective amnesia or collective narcolepsy," write Maxwell J. Smith and Ross E.G. Upshur in an Oxford University Press blog, based on their article in Public Health Care Ethics.
"In practice, this translates into not only investing in global outbreak surveillance infrastructure, but also strengthening health systems in the worst-off countries. This latter crucial point has been acknowledged,… click here to read whole article and make comments
Mexico closes door to cheap surrogate mothers
by Michael Cook | 19 Dec 2015 |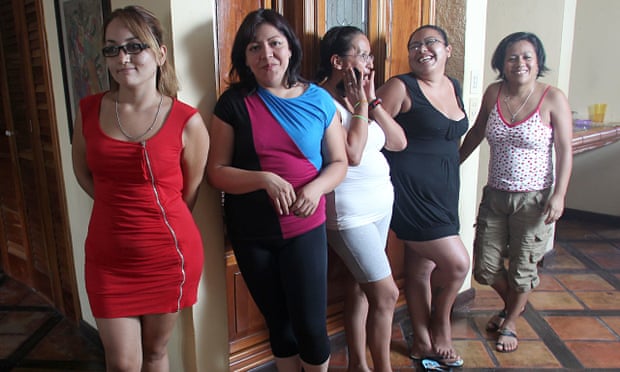 Surrogate mothers in the surrogacy agency home last year. The agency was forced into involuntary bankruptcy and is being investigated by the FBI.
After India and Thailand, another country has slammed its doors on foreigners seeking surrogate mothers. The Mexican state of Tabasco, the only one which allowed surrogacy, has changed its legislation after a number of reports of abuses. By a vote of 21 to 9, the state legislature voted to restrict surrogacy to Mexicans and to exclude homosexuals and singles. Couples who engage a surrogate must now include a mother aged between 25 and 40 with documentation that she is unable to bear a child.
One deputy, Verónica Pérez Rojas, said that she voted to restrict surrogacy because it is a "new form of exploitation of women and trafficking". He added that it treats children as commercial… click here to read whole article and make comments
US clinics obliged to offer fertility services to transgenders
by Michael Cook | 19 Dec 2015 |
The peak body for assisted reproduction in the US has dispelled lingering doubts amongst its members and declared that providing reproductive services for transgender people is ethical. The Ethics Committee of the American Society for Reproductive Medicine has issued a formal opinion that there are no reasons to view transgender parenting unfavourably.
"Unless other factors disqualify transgender persons from fertility services, based on empirical evidence rather than stereotype or bias, we find no ethical basis to deny reproductive services to transgender individuals."
The committee argues that it would actually be wrong to deny patients this right. "Professional autonomy, while a significant value in deciding whom to treat, is limited in this case by a greater ethical obligation, and in some jurisdictions, a legal duty, to regard all persons equally, regardless of their gender identity."
It appears that some of the ASRM's members have had… click here to read whole article and make comments
The top tech ethical issues of 2016
by Michael Cook | 19 Dec 2015 |
What will the top ethical dilemmas of technology be in 2016? The John J. Reilly Center for Science, Technology, and Values at the University of Notre Dame has released its annual list to get people thinking before controversial science or technology goes mainstream.
Here are the ethical issues, listed in no particular order. Bioethical concerns are very prominent.
Talking Barbie -- a new Barbie that wants to record conversations she has with your child.
CRISPR/Cas9 -- technology for gene editing.
Rapid whole genome diagnosis -- a way to record and catalog the genomes of newborns in order to improve disease detection.
Digital labor rights -- a discussion of the tension between anonymous workers and anonymous bosses.
Head transplants -- a procedure that one doctor has promised to develop by 2017.
Disappearing drones -- drones that deliver payloads and then disappear into thin… click here to read whole article and make comments
by David S. Oderberg | 15 Dec 2015 |
David S. Oderberg is Professor of Philosophy at the University of Reading, UK, and has written extensively on bioethical issues such as abortion, euthanasia, genetic engineering, animal rights, and capital punishment from a natural law, anti-consequentialist viewpoint. He is also the editor of Ratio, an international journal of analytic philosophy. Xavier Symons, Deputy Editor of BioEdge, asked him to comment on the state of contemporary bioethics.
********
Xavier Symons: In your opinion, what are the main philosophical concepts that bioethicists tend to misunderstand?
David S. Oderberg: There's a lot of misunderstanding in the bioethics industry (because it is something of an industry), although I'd prefer to put it in terms of simple mistakes or confusions. I don't think most bioethicists misunderstand what they believe or recommend at policy level, since most have a clear agenda, which is to pull apart as many "taboos", i.e., commonsense… click here to read whole article and make comments
Should high school football be banned?
by Michael Cook | 12 Dec 2015 |
Bioethics is closing in on American football. An expert on concussion writing in the New York Times says that children should be allowed to play until they have reached the age of consent.
It is our moral duty as a society to protect the most vulnerable of us. The human brain becomes fully developed at about 18 to 25 years old. We should at least wait for our children to grow up, be provided with the information and education on the risk of play, and let them make their own decisions. No adult, not a parent or a coach, should be allowed to make this potentially life-altering decision for a child.
Dr Bennet Omalu, who first diagnosed Chronic Traumatic Encephalopathy (CTE) in 2002 (and is the subject of the recent film Concussion), says that young players are at risk of "major depression, memory loss,… click here to read whole article and make comments
Somerville vs Savulescu on gene editing
by Michael Cook | 12 Dec 2015 |
The debate over editing the human genome is bound to continue for a long time, now that the new CRISPR technology promises to make it quick and easy.
The Canadian Broadcasting Corporation brought together bioethicists Margaret Somerville, of McGill University in Montréal, and Julian Savulescu, of Oxford University, to debate the topic, which touches upon profound issues of human identity.
Somerville opposes altering the human genome and Savulescu supports it, provided it can be made safe. Their exchange of views is extremely interesting (read the transcript in full here). Below are their summing-up statements:
Margaret Somerville: The analogy I'd make is to our physical environment. We have new technologies that we've used in our physical environment, and very recently, we've come to the awareness that it's not indestructible and that we can do damage that is irreversible. And we've now recognized, as the conference in Paris… click here to read whole article and make comments
Most research using foetal tissue focuses on infectious diseases
by Michael Cook | 12 Dec 2015 |
Foetal tissue research has featured prominently in headlines this year, after an anti-abortion activist group filmed Planned Parenthood officials talking about sales of foetal parts to researchers. Their videos created a huge political controversy and, at a Colorado clinic, a gunman shot dead three people. Although he is not very coherent, he reportedly told police "no more baby parts".
But less is known about what the scientists do with the tissue. A journalist for Nature, Meredith Wadman, combed through a National Institutes of Health database of research grants funded in 2014 to identify those which used foetal tissue. She found that the NIH had funded 164 of these projects, at a cost of US$76 million. This is only 0.27% of its grants.
Supporters of the research argue that the use of foetal tissue is legal, that it would otherwise be destroyed, and that it has helped to achieve significant medical advances. If they had other sources, they would use… click here to read whole article and make comments
Call for Belgium to revise euthanasia legislation
by Michael Cook | 12 Dec 2015 |
Although legalised euthanasia is widely accepted amongst Belgian doctors and politicians and a pet cause of the media, many medicos still have misgivings. This week a group of psychiatrists, psychologists, philosophers and others published a letter in De Morgen, a Flemish newspaper, asking the government to remove the option for euthanasia on the basis of psychological suffering alone.
This is probably the first time that a professional group has pushed back against the ever-widening circle of eligibility for euthanasia. The trigger for the letter was two vivid documentaries in the English-speaking media. The first, which appeared on the Australian SBS network, showed a doctor euthanizing an elderly woman without seeking a consultation with a psychiatrist, as he is supposed to do under current legislation. For the first time in the history of the legislation, the euthanasia commission decided to press charges. The second documentary was… click here to read whole article and make comments
Be a fan of BioEdge on Facebook