Artificial sperm proposed in UK debate over fertility bill
by Michael Cook | 17 Jan 2008 |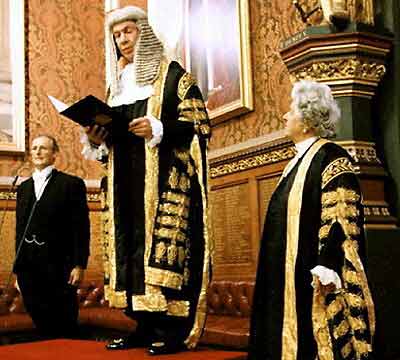 An amendment to a proposed new fertility bill for the UK could legalise the use of artificial sperm and eggs. Critics claim that it would allow lesbian couples to create their own sperm for the production of fatherless babies. The idea was tossed out last year after fathers rights groups, amongst others, objected. However, Lord Patel, an obstetrics expert, made a moving plea on behalf of women who are unable to produce their own eggs. Now the government whip, Lady Royall, says that the Government may reintroduce the plan when the Bill returns to the House of Commons.
A potentially even more radical amendment is being promoted by a group of leading UK scientific organisations. They want to "future proof" the legislation by making it easier to move from research to clinical applications. At the moment the regulator -- the Human Fertilisation and Embryology Authority -- can only license research, not… click here to read whole article and make comments
Governments pondering penalties for unhealthy lifestyles
by Michael Cook | 17 Jan 2008 |
The UK and Germany are taking preventative health care seriously. Prime Minister Gordon Brown is defending himself against reports that treatment would be withheld from people who lead "unhealthy" lifestyles. The controversy was sparked by a letter to the staff of the National Health Service from Mr Brown to congratulate them on its 60th anniversary. He foreshadowed a bill of rights for NHS patients which would spell out both their rights and their responsibilities. A spokeswoman for Mr Brown said that she wanted to make "very, very clear" that people would not be punished for their bad habits.
And in Germany, an attempt has failed to impose financial penalties upon patients who do not follow their doctor's advice. The plan was abandoned after protests from doctors and patient groups who said that it would destroy the patient-doctor relationship. Under a compromise reached before Christmas, patients with chronic disease will only be… click here to read whole article and make comments
British activists call for creation of deaf embryos
by Michael Cook | 10 Jan 2008 |
Deaf people should be allowed to create designer deaf embryos, says the head of the Royal National Institute for Deaf and Hard of Hearing People (RNID) in the UK. Although most deaf people would not take advantage of the option, it would be discriminatory not to offer it, says Jackie Ballard, a former Member of Parliament. She was objecting to Clause 14(4)(9) in proposed fertility legislation which would make it illegal for parents to choose an embryo with an abnormality if healthy embryos exist.
Ms Ballard told the Sunday Times, "There is a small minority of activists who say that there is a cultural identity in being born deaf and that we should not destroy that cultural identity by preventing children from being born deaf." She argued that if other parents are allowed to create "designer babies", then deaf people should also be allowed to do so, as well.
But there is… click here to read whole article and make comments
1 million embryos destroyed in UK in 14 years
by Michael Cook | 10 Jan 2008 |
More than 1 million embryos have been destroyed by British IVF clinics over the past 14 years, according to government figures unearthed at the request of an independent peer in the House of Lords. Figures from the Department of Health show that 2,137,924 embryos were created in the UK between 1991 and 2005, of which 1.2 million were never used. The statistics on the wastage were not readily available and only became public after Lord David Alton of Liverpool tabled a request in the House of Lords. He says that embryos are being destroyed "at an incredible rate".
"IVF has ensured that a number of people have been given a chance to have children," he told the Sunday Times. "But it is surprising how many embryos are being destroyed in the process. This is a rather unexpected aspect of IVF. If you could just create an embryo to implant, that would be… click here to read whole article and make comments
Stem cell wars not over yet, say Harvard scientists
by Michael Cook | 10 Jan 2008 |
Although stem cell research changed forever after Japanese scientist Shinya Yamanaka revealed that he had produced pluripotent cells from skin cells in November, some American researchers refuse to give up their work on therapeutic cloning. It's far too early to jump ship, they say. It would be "A very foolish and maybe tragic bet," says Konrad Hochedlinger, of Massachusetts General Hospital; "folly", says Christopher Scott, of Stanford University; "grossly irresponsible", says Ronald M Green, of Dartmouth College.
Worldwide, fewer than 10 research centres are actively involved in therapeutic cloning. And now, since creating reprogrammed cells and obtaining funding for them are so much easier, labs everywhere are switching over. But at Harvard, reports the Boston Globe, two prominent researchers are sticking with therapeutic cloning.
"For doing basic research on human cells, IPS (induced pluripotent stem cells) as a method has won - it's huge," said Dr. George Q. Daley. "But for the… click here to read whole article and make comments
John Edwards seeks political traction with death of 17-year-old
by Michael Cook | 10 Jan 2008 |
The tragic death of a 17-year-old California girl has become an political football in the American presidential primaries. Democratic hopeful John Edwards brought her grieving parents with him on the campaign trail in New Hampshire and told listeners that she had died because of greed by a health insurance giant, Cigna. Progressive websites have taken up her cause: "Murder By Spreadsheet: CIGNA Denies Claim and 17-Year-Old Will Die," was the headline in the Daily Kos. However, the facts are more complex. Nataline Sarkisyan had been battling leukaemia for three years. She finally had a bone marrow transplant in November, but then her liver failed. Her doctors told her insurer, Cigna HealthCare, that she had a 65% chance of surviving for six months. The hospital was willing to do the transplant, but Cigna refused. After a tsumani of adverse publicity, it relented, but too late: Nataline died on the same day.
Politicians, religion and science
by Michael Cook | 10 Jan 2008 |
In a telling sign of how the election is viewed by the scientific establishment, the outgoing editor of
Science
, Donald Kennedy, has rebuked the gaggle of presidential candidates slogging their way through the primaries for airing their religious views. Even though the First Amendment to the US Constitution forbids the establishment of a national religion, says Dr Kennedy, the candidates are nearly all trying to persuade voters that their faith constitutes a claim on their votes. Science and religion are not necessarily on a collision course, but scientists are entitled to demand that an aspiring president should be scientifically literate. The questions that Kennedy proposes are: "What is your view about stem cell research, and does it relate to a view of the time at which human life begins? Have you examined the scientific evidence regarding the age of Earth? Can the process of organic evolution lead to the production of new species, and how?…
click here to read whole article and make comments
by Michael Cook | 10 Jan 2008 |
Has the
New England Journal of Medicine,
one of the world's leading medical journals, endorsed the theory that God is all in the brain? In a brief overview of neurological research into religious experience, featured as one of the journal's weekly "Perspectives", Dr Solomon Snyder, of Johns Hopkins Medical School, highlights two 2007 books which argue that religion is basically a neurological artefact. In one,
The Accidental Mind: how brain evolution has given us love, memory, dreams and God
, DJ Linden attributes religious ideation such as the notion of a loving personal God to "the confabulations that persons with split brains arrive at in order to make sense of incompatible data encountered by the two separated hemispheres".
In the other, The Soul in the Brain: the cerebral basis of language, art, and belief, British epileptologist Michael Trimble attributes the idea of God to disturbances in the temporal lobe. Dr Snyder appears to… click here to read whole article and make comments
Norwegian doctors "thick as thieves", claims ethicist
by Michael Cook | 10 Jan 2008 |
In a stinging attack on his colleagues, a leading British-Norwegian ethicist has alleged that the Norwegian medical association has attempted to stifle ethical debate. Writing in the
Journal of Medical Ethics
, Søren Holm, of Cardiff Law School, says that the Norwegian Medical Association's Council for Professional Ethics has made an "astonishing, perverse and immensely problematic" in censuring a scientist. The case in question involves a major scientific fraud which has been overshadowed by the even more audacious stem cell fraud in Korea. In January 2006 it was discovered that Norwegian scientist John Sudbø had falsified all the data in an article in Lancet. None of his 13 co-authors knew what had happened and a professor of medical ethics at the University of Oslo, Jan Helge Solbakk, commented in the media that they all had "muck on their hands" and that they had not fulfilled their responsibilities as co-authors. The ethics council thereupon censured Solbakk for…
click here to read whole article and make comments
Be a fan of BioEdge on Facebook