Animal research ethics in question
by Xavier Symons | 18 Sep 2015 |
Animal research – the use of the use of live animals as experimental subjects in biomedical and behavioral fields of learning – has been subject to increasing scrutiny in recent years. A new edition of the Cambridge Quarterly of Healthcare Ethics contains several articles on the ethics of animal research, many of them from novel perspectives.
The editors of the special volume, Tom L. Beauchamp, of Georgetown University, and David De Grazia, of George Washington University, see the articles as a step toward addressing "the unresolved tension between the noble aspirations of animal research and the ethical controversies it often generates".
"The moral assumption…that the moral status of animals is inferior to the moral status of human beings—a thesis commonly expressed in the language of "human dignity"…[is] now increasingly called into question", write Beauchamp and De Grazia in their editorial.
Interestingly, only one of… click here to read whole article and make comments
Approved anti-depressant deemed unsafe
by Xavier Symons | 18 Sep 2015 |
The widely prescribed anti-depressant Paxil has been found by researchers to be neither safe nor effective for the treatment of depression.
Paxil, also sold under the names Aropax and Seroxat, is a Selective Seratonin Reuptake Inhibitor (SSRI), and was thought to treat a wide range of mental conditions, including major depression, post-traumatic stress disorder, and obsessive-compulsive disorder.
New research published in the British Medical Journal by an international team of pharmacologists suggests that paroxetine (the compound name of Paxil) has no significant benefits for patients suffering from depression; in fact, rates of harm increase when individuals take the drug. The conclusions of the replication study were damning:
"Contrary to the original report by Keller and colleagues [a report used as evidence for FDA approval] our reanalysis…showed no advantage of paroxetine or imipramine over placebo in adolescents with symptoms of depression on any of the… click here to read whole article and make comments
Fate of assisted suicide in California hinges on Governor
by Michael Cook | 18 Sep 2015 |
It is up to one man to decide whether California, America's most populous state, will legalise assisted suicide – its Governor, Jerry Brown. Bill ABX2-15 has sailed through the legislature and is awaiting the Governor's signature.
The pressure on Mr Brown is enormous, with both sides of the intensely contested issue deluging him with information, arguments and emotional pleas. "This bill remains opposed by groups representing people living with disabilities, cancer doctors, people advocating for the poor and uninsured and faith based organizations," said Tim Rosales, spokesperson of Californians Against Assisted Suicide. On the other side, state Sen. Lois Wolk, a co-author of the bill, said, "I am proud to be a part of this historic moment. No longer should terminally ill individuals in California be forced to suffer needlessly in their final days when a more compassionate option is available."
The bill will automatically become law unless the… click here to read whole article and make comments
Stem cell researchers reopen embryo experimentation debate
by Michael Cook | 13 Sep 2015 |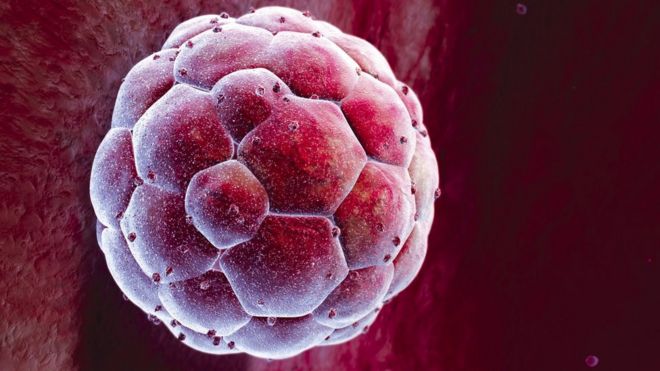 In April Chinese scientists revealed that they had used Crispr, the new genetic engineering tool, to edit the genomes of surplus embryos from IVF clinics. Although none of the embryos were viable, the news sent a tsunami of excitement through the stem cell research community.
Some scientists believe that changing the human genome is "dangerous and ethically unacceptable", in the words of an open letter in Nature earlier this year. It is explicitly banned in many countries and officially discouraged in the US.
Nonetheless, using Crispr to modify human embryos is essential, says a group of scientists, ethicists and policy experts. The Hinxton Group, an interdisciplinary group for stem cell research policy launched in the UK and based at Johns Hopkins University in Baltimore, has issued a statement of proposed policy guidelines in the wake of recent developments.
Their main thrust is to demand that… click here to read whole article and make comments
Dutch right-to-die group promotes euthanasia in schools
by Xavier Symons | 12 Sep 2015 |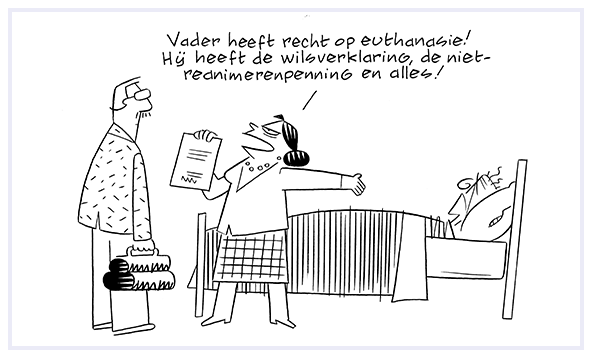 Your father has a right to euthanasia. He has an advance directive not to be resuscitated
The Dutch Voluntary End of Life Association (NVVE) is rolling out is latest project to bolster public support and acceptance of euthanasia – a school curriculum program called 'euthanasia – dead normal'.
The curriculum, launched last week, aims to provide high school students with "accessible information" about euthanasia, helping them to "have respect" for those who chose to end their lives.
Representatives of the NVVE will visit schools and guide students through the materials. There are videos offering 'different' (though all supportive) perspectives on euthanasia: a 26 year old woman with muscular dystrophy who opted for euthanasia; a 17 year old girl who's grandmother asked for euthanasia; and a doctor who performs euthanasia.
There is also a cartoon infographic guiding children through the steps involved in… click here to read whole article and make comments
The atheist case against euthanasia
by Xavier Symons | 12 Sep 2015 |
A number of intellectuals have recently chided 'godly types' for arguing against legalising euthanasia. Outspoken Australian philosopher and humanist Russell Blackford this week slammed Anglican Archbishop Justin Welby for what he saw as 'disingenuous religious propaganda' under the guise of secular argumentation. And last week we reported on the Lancet's swipes at Baroness Ilora Finlay, former president of the British Medical Association, whom editor-in-chief Richard Horton accused of "fibbing for God".
So is it only religious types who are fighting against assisted suicide? Not quite.
In a recent edition of the Spectator magazine, atheist commentator Douglas Murray – lauded by the late Christopher Hitchens as "youthful, defiant and principled" – argues that the so-called slippery slope argument is reason enough for parliamentarians to stay their hand:
"Those who are not religious can still have many philosophical objections to euthanasia… The principal objection to euthanasia… click here to read whole article and make comments
A black baby is not a wrongful birth, says court
by Xavier Symons | 12 Sep 2015 |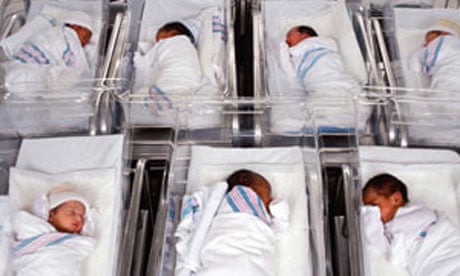 A US county court has rejected a wrongful birth case lodged by a same-sex couple who were mistakenly given sperm from a black donor. Ms. Jennifer Cramblett, 37, was suing Midwest Sperm Bank in Illinois, after the clinic failed to deliver her the blonde-haired, blue eyed donor sperm that she requested.
Ms. Cramblett -- who, along with her partner Amanda Zinkon, is Caucasian -- said she discovered the mistake when she was pregnant with her girl, Payton (now three years old). Cramblett contacted the clinic to plan another child from the same donor, only to be told that she had been inseminated with sperm from an African-American man.
Cramblett's law suit states that she is unprepared to bring up a mixed-race child:
"Getting a young daughter's hair cut is not particularly stressful for most mothers, but to Jennifer it is not a routine matter, because… click here to read whole article and make comments
"I deeply regret IVF is now so commercial"
by Xavier Symons | 12 Sep 2015 |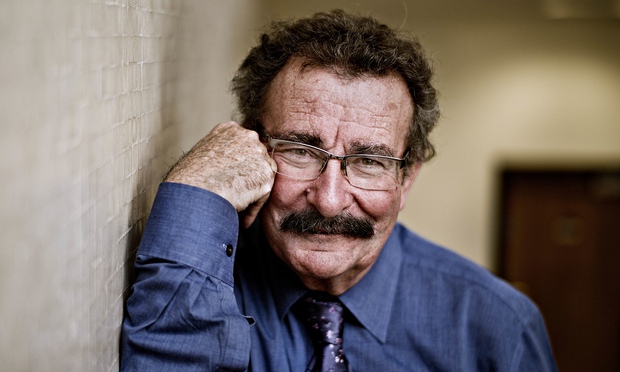 IVF pioneer Robert Winston recently spoke out against the commercialisation of the IVF industry, saying that desperate UK couples are being exploited and grossly overcharged for treatment. Speaking with The Mirror, Baron Winston castigated the NHS and UK government for failing to stop greedy IVF companies preying on infertile couples:
"Patients' desperation and some practitioners' avarice is steadily raising prices.

"More and more infertile couples are being exploited by an increasingly grasping industry that frequently ignores ethical standards…neither the NHS nor the Government does enough to help. It's not just some doctors who are responsible."
Baron Winston told of one woman who paid more than £10,000 for one cycle – which should cost as little as £1,000.
Two per cent of babies born in Britain are now click here to read whole article and make comments
More revelations about past sterilization of Canadian indigenous women
by Michael Cook | 12 Sep 2015 |
Aboriginal activists pray outside the National Roundtable on Missing and Murdered Indigenous Women and Girls in Ottawa earlier this year.
Coerced sterilization of indigenous Canadian women did not end until at least 1974, according to a recently published study. Karen Stote, a women's studies professor at Wilfrid Laurier University, concluded that the problem was far wider than was previously known. She told Thomson Reuters that
"Consent forms (for sterilisations) were not translated into indigenous languages, people weren't necessarily understanding what was happening in the doctor's office … In some areas, they (doctors working for the government) were promoting birth control to reduce the size of indigenous communities."
Canadian officials also sterilized other groups, including the mentally disabled, for eugenic reasons. This was also a reason for sterilizing indigenous women, but Dr Stote claims that "the government also wanted to reduce their… click here to read whole article and make comments
from the editor: Pointed Remarks
Be a fan of BioEdge on Facebook