Will Belgium grant euthanasia for unwanted sexual attraction?
by Michael Cook | 11 Jun 2016 |
Along with unbearable physical pain, mental suffering, and dementia, a new reason for seeking euthanasia in Belgium has emerged in the media: paedophilia.
The BBC's Victoria Derbyshire program interviewed a 39-year-old man who has requested a lethal injection because he has intense feelings of attraction to adolescents and young men.
Sébastien (a pseudonym) says that he has been through 17 years of therapy and medication and has come to the end of his tether. He told the BBC that he came from dysfunctional family background, with a strict Catholic upbringing and a mother who had dementia. His father is estranged from the family.
"I was extremely lonely, extremely withdrawn, very inhibited physically - scared to go out, scared of being seen, all the time scared, hugely shy. And growing up, I met a boy and I fell crazy in love. We were both 15. And… click here to read whole article and make comments
California doctor opens end-of-life clinic
by Michael Cook | 11 Jun 2016 |
California's right-to-die law was rolled out this week and at least one doctor immediately opened up a dedicated assisted suicide clinic in San Francisco.
At Bay Area End of Life Options, Dr Lonny Shavelson, a well-known advocate of assisted suicide, will advise people who are wondering whether they ought to end their lives.
Dr Shavelson denies that he will be operating a drive-in suicide service. He says that he wants to work with patients to explore all the legal and therapeutic options. "When somebody says to a physician that they want to talk about the End of Life Option Act and says, 'Can you give me a prescription that will end my life?' I want them to tell me why," he told the San Jose Mercury. "A major goal of physicians is to make this (prescription) not happen."
His fees will be US$200 for an… click here to read whole article and make comments
Unless we act quickly, humans will be house pets to robots, says Elon Musk
by Michael Cook | 11 Jun 2016 |
Elon Musk, billionaire co-founder of PayPal, and the boss of boss of Tesla and SpaceX, fears that Artificial Intelligence is advancing so fast that humans may end up being house pets for robots.
He told a code conference at San Francisco that we are effectively already cyborgs; what is needed is an upgrade of our intelligence which he calls a "neural lace" injected into the brain. This would allow people to access the internet immediately and vastly improve human cognition. "Somebody's gotta do it, I'm not saying I will. If somebody doesn't do it then I think I should probably do it," he told the conference.
This is not as crazy as it sounds. In a recent issue of Nature Neurotechnology researchers claim that they have injected neural lace into the brains of mice without ill effects. The wire and plastic mesh is so fine that it integrates into… click here to read whole article and make comments
Victorian report recommends assisted suicide
by Xavier Symons | 11 Jun 2016 |
Victoria's 'Inquiry Into End of Life Choices' has recommended the legalisation of assisted dying. The report is a sizable document – the summary alone is 40 pages – but the authors saved the most controversial matters till last. After almost 50 recommendations about palliative care and advanced care planning, the report concludes with an unequivocal recommendation that Victoria legalise assisted dying. The final recommendation (no. 49) is:
"That the Victorian Government introduce a legal framework providing for assisted dying, by enacting legislation based on the assisted dying framework outlined in this Report"
The recommendation is followed by an annex outlining a framework for assisted dying, including criteria for eligibility and a proposed system for oversight and review. The sorts of patients who would be eligible would be over 18 years, suffering from a serious and incurable illness, and "at the end… click here to read whole article and make comments
3-person babies may not be as close as media suggest
by Michael Cook | 11 Jun 2016 |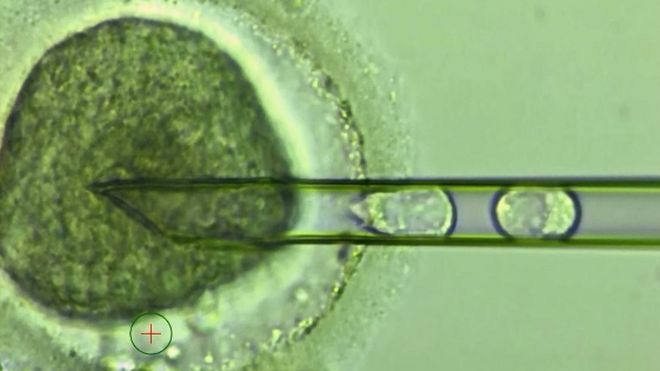 The headline in the BBC was "Three-person babies IVF technique 'safe'". This echoed the press release from Newcastle University: "New safety and efficacy evidence for mitochondrial donation revealed".
The news was that UK scientists have published a paper in Nature claiming that a technique for ridding a woman's egg of defective mitochondria -- which was legalised last year -- has been proved safe. What failed to surface in the news coverage were other headlines only a month ago over stories which reported American research that the "three-person baby" technique was unlikely to work because some of the defective mitochondrial DNA carry over.
Which is right?
A thoughtful analysis of the two papers by stem cell researcher Paul Knoepfler, of the University of California, Davis, suggests that the British scientists might be painting too rosy a picture of the controversial technique.
UN calls on Ireland to change abortion law
by Xavier Symons | 11 Jun 2016 |
The United Nations Human Rights Committee says that Ireland's abortion laws are a violation of human rights.
In a controversial judgement – the outcome of a case involving dual Irish-US citizen who had to travel to the UK to terminate her non-viable pregnancy – the Committee called on the government to allow women free access to abortion, labelling extant laws "cruel" and "inhumane". The Committee also asked authorities to compensate the woman, 42-year-old Amanda Mellet, for the distress and trauma she experienced.
Ms. Mallet travelled to the UK for an abortion in late 2011. She told the Committee she experienced immense emotional and psychological distress as a result of having to go abroad for the procedure.
The Committee called on the government to reform the abortion law to protect women in the future:
"…the State party should amend its law on voluntary termination of pregnancy, including if necessary its Constitution,… click here to read whole article and make comments
Strict new regulations following IVF deception
by Xavier Symons | 11 Jun 2016 |
Australian IVF clinics will require donor recipients to be tested for pregnancy, following a case where a client deceived an IVF clinic about the outcome of her donor-gamete fertility treatment.
Earlier this year it was reported that a donor recipient had lied to a clinic about miscarrying a child conceived using a donor egg; the woman wanted to avoid honoring an arrangement with the gamete donor to allow for contact with any children resulting from treatment.
The Fertility Society of Australia, the industry's peak regulatory body, unanimously agreed on new regulations this week, saying the extant IVF guidelines were open to abuse.
Clinics will now require women who use donor eggs, sperm or embryos to give a written undertaking to have a blood test to verify whether they fall pregnant. Recipients of donor treatment who fail to provide the results of a pregnancy blood test will be reported… click here to read whole article and make comments
Interview: "Democratic deliberation" and bioethics
by Nelson Michael and Xavier Symons | 8 Jun 2016 |
With an election round the corner, the Presidential Commission for the Study of Bioethical Issues is coming to the end of its term. The Commission recently released its final report, entitled Bioethics for Every Generation: Deliberation and Education in Health, Science and Technology. The report discusses the complexities bioethical decision-making in an age of deep ideological disagreements and rapid biomedical progress. The Commission members are optimistic, suggesting that agreement can be reached on substantive bioethical policy matters through processes of "democratic deliberation". The report proposes an ambitious educational program to improve the bioethical literacy of the public, and also outlines a series of civic virtues that policy stakeholders should adopt when debating ethical issues.
Last week Xavier Symons, of BioEdge, conducted an email interview with Col. Nelson L. Michael, MD, PhD, about the report and the future of bioethics in the United States. Col. Michael is a… click here to read whole article and make comments
A gorilla grabs your kid: should you shoot?
by Michael Cook | 4 Jun 2016 |
That bioethicists regard the lives of animals as more important than infants or disabled humans is a common complaint amongst their critics. The death of a silverback gorilla in the Cincinnati Zoo serves as a test of this hypothesis.
Earlier this week Harambe, a 17-year-old male, grabbed a 4-year-old boy who had eluded his mother and scrambled into the enclosure. Zoo authorities ordered Harambe to be shot, fearing that he would injure or kill the child. The boy was unharmed, apart from bruises and scratches.
Harambe had been raised in captivity and was destined to be a stud for an endangered species. So his death was a minor setback for the future of gorilladom.
On social media the reaction to the incident was immediate and angry. An internet petition demanding "justice for Harambe" called upon authorities to charge the parents of the child with negligence. At last… click here to read whole article and make comments
IVF expert complains about unjustifiable use of ICSI around the world
by Michael Cook | 4 Jun 2016 |
The editor-in-chief of one of the world's leading reproductive medicine journals has attacked the rising use of intracytoplasmic sperm injection (ICSI) for the treatment of infertility, following publication of the latest world report on assisted reproductive technologies (ART).
The report in Human Reproduction shows that while ICSI use has levelled off in some regions, its use is approaching 100% of assisted reproduction cycles in the Middle East and a few countries in other regions, despite the fact that ICSI was developed for the treatment of male infertility, which is a factor in around 40% of couples seeking fertility treatment. The world report covers the years 2008, 2009 and 2010 -- the years for which the most recent data are available.
In a savage editorial entitled "Santa Claus in the fertility clinic", to accompany the world report, Professor Hans Evers highlights the fact that in 2010 there… click here to read whole article and make comments
Be a fan of BioEdge on Facebook