How should the media cover euthanasia?
by Michael Cook | 14 Nov 2015 |
Because media coverage of suicide could easily lead to copycat suicides, in 2008 the World Health Organization issued a long list of guidelines for journalists. It advises them to: "Avoid language which sensationalizes or normalizes suicide, or presents it as a solution to problems", "Avoid providing detailed information about the site of a completed or attempted suicide", and to "Show due consideration for people bereaved by suicide".
Campaigns for assisted suicide and euthanasia ignore this. In addition to sympathetic headlines, media organisations are producing YouTube videos which paint a glowing picture of assisted dying, illustrate clearly how it is carried out, and draw teary relatives into the story.
In recent months there have been numerous examples. A 29-year-old American woman, Brittany Maynard, made two videos (here and here) with the help of the assisted suicide lobby group Compassion & Choices which were seen by… click here to read whole article and make comments
Ben Carson: the candidate from bioethics
by Jonathan D. Moreno | 10 Nov 2015 |
During the George W. Bush administration, Ben Carson was a member of the President's Council on Bioethics. Compared to separating conjoined twins in a landmark surgical procedure, this might seem like a small item on his resume. But there's good reason to think that his bioethics experience helped shape the thinking that has made him so appealing to many social conservatives.
I made the call about Carson's appeal earlier this year in the Huffington Post. Talking about who might win the hearts of traditionalists I wrote that "at the moment the early favorite is Ben Carson. He seems to have been sent down from central casting for the role. An up-by-his-bootstraps African-American neurosurgeon who speaks softly but carries a big rhetorical scalpel, Carson was a member of President George W. Bush's bioethics council, which was notably skeptical about biotechnological innovations that challenged traditional notions of and respect… click here to read whole article and make comments
by Xavier Symons | 7 Nov 2015 |
Fires burn in part of the MSF hospital after air strike on October 3 (AFP: MSF)
Medecins San Frontieres has accused the US special forces of "war crimes" after an American AC-130 gunship attacked a field hospital in the northern Afghan city of Kunduz in early October.
According to MSF, the incident left at least 30 staff and patients dead. During the one hour attack, "patients burned in their beds, medical staff were decapitated and lost limbs, and others were shot by the circling AC-130 gunship while fleeing the burning building".
MSF staff frantically try to contact NATO during the attack, but the response was slow. The US government later apologised, but MSF are not satisfied and is demanding a full investigation.
MSF believes that the attack may have been deliberate, and have called on the nations of the world to declare "if the… click here to read whole article and make comments
by Michael Cook | 7 Nov 2015 |
Can a confused, lonely, bi-polar, sick 73-year-old with religious delusions refuse an operation which will save his life?
Yes, says the UK's Court of Protection. A man known as Mr B is a diabetic with a severely infected leg. His life can only be saved if it is amputated below the knee, according to the best medical advice. Without this, he will die of the infection, possibly within a few days. Mr B has no one else in the world to care for him. "He has no next of kin. No one has ever visited him in hospital and no one ever will," observes the judge.
In the opinion of the judge he does not have the mental capacity to make a rational decisions about his illness. On the other hand, Mr B, who is not afraid of dying and bears his pain with great… click here to read whole article and make comments
Surrogacy business shifts to Cambodia
by Michael Cook | 7 Nov 2015 |
The international market for surrogacy is proving to be very resilient in the face of legal and social disruption. Now that India, Nepal and Thailand have banned international clients from using local surrogates, clinics and brokers are shifting their business to Cambodia.
According to the Sydney Morning Herald, at least 14 clinics have opened up in Phnom Penh since Thailand changed its policy after some high-profile scandals. Most of them appear to be Thai clinics, but Indian clinics are also relocating. The surrogate mothers tend to be Thai as well, since surrogacy is frowned upon in Cambodia.
Clients who travel to Cambodia to get a baby are taking a big risk. The business has sprung up overnight, as Cambodia's first IVF baby was born in 2014 (according to the Fertility Clinic of Cambodia). No laws govern surrogacy there and the legal system is "murky and… click here to read whole article and make comments
India restricts access to surrogate mothers
by Xavier Symons | 7 Nov 2015 |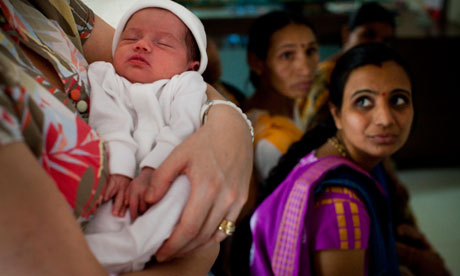 Suzanne Lee / Panos London / Guardian
The Indian government has introduced strict new laws that will prohibit foreigners from commissioning Indian women to bear their children.
In a letter published late last month, the Indian Council of Medical Research, a government body, said surrogacy services could be provided only to married Indian couples. The country's 350 fertility clinics have been ordered "not to entertain any foreigners".
The letter did not address the issue of babies currently being carried by surrogate mothers for foreign clients, and some have petitioned the courts for a stay on the legislation.
Two clinics in Mumbai were this week successful in getting the ban lifted temporarily for couples already expecting a surrogate birth, after taking legal action. But their lawyer Vikrant Sabne told AFP that the Bombay High Court's order did not apply nationally.
The new law sparked… click here to read whole article and make comments
Silicon Valley becomes a bioethical testing ground
by Michael Cook | 7 Nov 2015 |
Apple's promotional video for ResearchKit
Silicon Valley start-up 23andMe, as well as internet giants Google, Facebook and Apple, are competing to create databases which can be made available to medical researchers. But bioethicists are asking whether participants' privacy will be respected and whether they understand what they have consented to.
23andMe, whose CEO is Anne Wojcicki, the former wife of Google co-founder Sergey Brin, is the leader in the new field of collecting health and genetic data on-line. For the past two years the company has been hampered by an FDA ban on providing direct-to-consumer genetic tests. But in October the FDA relaxed these restrictions, giving 23andMe's plans for personal genome testing a substantial boost.
The San Francisco Chronicle describes the situation:
Most medical studies take months or years to solicit enough volunteers. But 23andMe puts the genetic information of 700,000 people at researchers'… click here to read whole article and make comments
UK doctor suspended for three months over abortion
by Xavier Symons | 7 Nov 2015 |
Dr Palaniappan Rajmohan
A British doctor at the centre of an undercover press investigation has been suspended for three months after authorizing a sex-selective abortion. Dr Palaniappan Rajmohan, who practices at the Calthorpe clinic in Edgbaston, Birmingham, was approached in 2011 by actors posing as a couple seeking a sex-selective abortion. Initially he was reluctant, calling it "female infanticide", but after the couple agreed that he could use another reason on a government form he agreed.
Raimohan was originally reported to Crown Prosecution Service, which decided it was not "in the public's interest" to prosecute. The case was referred on to the General Medical Council, which, after a protracted enquiry, found that Rajmohan had lied about the about the reason for termination.
The panel concluded that: "Despite…apparently believing that the request for a termination of pregnancy was being based on the… click here to read whole article and make comments
LA pill mill doctor convicted of murder
by Michael Cook | 7 Nov 2015 |
A Los Angeles woman has become the first American doctor to be convicted of second-degree murder for reckless prescriptions of painkillers. Dr Hsiu-Ying "Lisa" Tseng was found guilty of the deaths of three of her patients, but prosecutors believe that she was responsible for the deaths of a dozen people. She could be sentenced to life in prison.
Her conviction is part of a nationwide crackdown on "pill mills" – doctors who recklessly prescribe drugs to people addicted to prescription narcotics. According to the Centers for Disease Control and Prevention, nearly 15,000 Americans die annually after overdosing on prescription painkillers.
"You can't hide behind a white lab coat and commit crimes," Deputy District Attorney John Niedermann told The Associated Press. "Writing a prescription to someone knowing that they're going to abuse it and potentially die was the theory of second-degree murder that we had. Something is… click here to read whole article and make comments
The case for expanding physician-assisted death to psychiatric cases
by Xavier Symons | 7 Nov 2015 |
Recently there has been a flurry of articles agitating for euthanasia for the mentally ill. The latest addition by Hastings Center fellow Bonnie Steinbock, suggests assisted death for psychiatric cases is the logical consequence of current euthanasia legislation.
Steinbock suggests that no good argument has been made in defence of the current prohibitions on euthanasia for the mentally ill:
"… the case for absolute exclusion of psychiatric conditions has not been made. It may be justified, in some cases and under certain conditions. Assisted death should always be a last resort, whether the condition prompting the request is physical illness or psychiatric condition."
She discusses the potential objections that could be made to broadening the scope of the law, and suggests that none of them is convincing.
Many argue that the "terminal illness" requirement is appropriate. But Steinbock asserts that terminal illness is… click here to read whole article and make comments
Be a fan of BioEdge on Facebook