New stem cell research guidelines
by Xavier Symons | 14 May 2016 |
In response to the rapid development of scientific research and mounting ethical concerns, The International Society for Stem Cell Research (ISSCR) has released updated guidelines for stem cell research and the development of new clinical therapies.
The new guidelines deal with a number of issues unaddressed in previous ISSCR documents, including genetic experimentation on human embryos, embryo research oversight processes, and the use of "undue financial inducement" to entice women to donate their eggs for research pruposes.
The full ISSCR document can be found here, and summary here.
"The field of stem cell research is growing at a rapid pace, with scientists and physicians developing new therapies that can help patients around the world who suffer from a wide variety of conditions," said Sean J. Morrison, Ph.D., ISSCR president and director of the Children's Medical Center Research Institute at UT Southwestern. "These guidelines are essential to… click here to read whole article and make comments
Medicine in India #2 – IVF for septuagenarians
by Xavier Symons | 14 May 2016 |
A woman in India thought to be in her 70s has given birth to a baby boy, sparking outcry in the country and drawing international media attention. Daljinder Kaur gave birth to her son Arman Singh last month, after receiving treatment from a rogue fertility clinic in northern state of Haryana.
The woman's son is healthy, and Daljinder says she is now a happy mother. "God heard our prayers. My life feels complete now," she told The Guardian.
Yet most fertility specialists say it was unethical and reckless to provide the woman with IVF treatment. "It is outrageous," Hrishikesh D. Pai, the former president of the Indian Society of Assisted Reproduction, told The Australian. "It is inappropriate to do it and it is not in the best interests of the parents or the unborn child to do it."
Others see controversies like these as indicative of broader regulatory… click here to read whole article and make comments
Medicine in India #1 – limb surgery
by Xavier Symons | 14 May 2016 |
Limb surgery is becoming an increasingly common procedure among middle-class Indians looking to improve their future social prospects. The highly controversial operation is being sought out by both local and international clients, and is just one among the many cosmetic surgeries driving India's US$3 billion medical tourism industry.
Height is considered attractive in India, and can have significant social ramifications for marriage and career prospects.
The procedure, both protracted and complex, involves doctors breaking the legs of patients and applying braces to the limbs that alters the length of the healing bone. According to Dr. Amir Sarin, a cosmetic surgeon based in Delhi, many junior specialists are performing the procedure with little or no prior experience.
"This is one of the most difficult cosmetic surgeries to perform, and people are doing it after just one or two months' fellowship, following a doctor who is probably experimenting… click here to read whole article and make comments
by Michael Cook | 14 May 2016 |
In 2010 the New York City Department of Health launched a grisly 30-second TV ad (above) aimed at reducing the incidence of HIV amongst men who have sex with men. It showed angst-ridden young men reacting to the words osteoporosis, dementia, anal cancer.
The campaign was extremely controversial in the gay community. Some hated it: "it's sadistic and bullying," said UK-based journalist Gus Cairns. But gay rights activist Larry Kramer loved it: "these nyc department of health public service announcements are in fact not strong enough!"
These comments represent the two extremes of debate over fear-based public health campaigns. Bioethicists, whose work is supported by the pillar of autonomy, criticise them as stigmatising; public health ethicists, who often take a more utilitarian approach, believe that fear saves lives by motivating people to change their behaviour. From the 1950s to the 1970s, the anti-stigma crowd had had the upper hand.… click here to read whole article and make comments
Pfizer to stop supplying drugs for executions
by Michael Cook | 14 May 2016 |
Pharmaceutical giant Pfizer has declared that it will not provide drugs to correctional institutions for executions. The announcement comes after its takeover last year of Hospira Inc, a company which manufactured several drugs which were being used in capital punishment.
A revised policy statement, posted on its website yesterday, says:
Pfizer makes its products to enhance and save the lives of the patients we serve. Consistent with these values, Pfizer strongly objects to the use of its products as lethal injections for capital punishment.
Pfizer's new policy will not stop capital punishment in the US. But it will make it more difficult for states where it is legal to access the drugs. Furthermore, it is a public relations coup for anti-death penalty campaigners. Maya Foa, of Reprieve, a UK lobby group, told the media:
"Pfizer's actions cement the pharmaceutical industry's opposition… click here to read whole article and make comments
Paris conference investigates CRISPR potential
by Michael Cook | 14 May 2016 |
CRISPR and other gene-editing technologies hold great promise for treating disease. However, they also provoke significant ethical concerns, especially about germline modification and the consequences of altering the genetic heritage of future generations.
On April 28 and 29, two conferences were held in Paris, one organised by European scientists and the other by Americans. They were attended by the world's leading figures in stem cell research and ethics for a discussion of regulation, governance, and ethical issues surrounding human gene-editing research.
Caroline Simons, an Irish lawyer, reported on the proceedings in a guest post on The Niche, the blog of Paul Knoepfler's stem cell lab. It's a very useful summary of the status quo.
1. Germline gene editing technologies are not ready for clinical application in humans.

2. No country has regulated specifically for these technologies, but some consider that their regulations… click here to read whole article and make comments
One of America's finest novelists tackles life extension
by Michael Cook | 14 May 2016 |
"We are born without choosing to be. Should we have to die in the same manner? Isn't it a human glory to refuse to accept a certain fate?" -- Zero K
Immortality through cryonics is the central plot device in the latest novel by Don De Lillo, one of America's best writers. Zero K takes the reader to a remote secret compound called "the Convergence" where bodies are frozen until a technology is developed to awaken them.
A billionaire takes his dying wife there to be frozen and has to decide whether he will join her, even though he is healthy, or whether he will live on, battling against existential doubt and a loveless life. The story is narrated by his son who is sceptical of the promises of the cult of frozen immortality and returns to New York in the second half of the novel.
The Convergence is… click here to read whole article and make comments
Calls to extend 14-day embryo rule
by Xavier Symons | 7 May 2016 |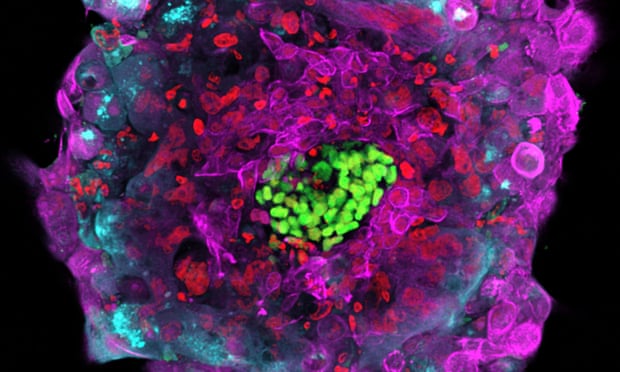 Policy analysts in the US and UK are calling for an augmentation of the decades-old 14-day embryo experimentation rule – a regulation that requires scientists to terminate any embryo in vitro before it reaches two weeks of development.
The calls for change have come in the wake of the publication of ground-breaking embryology research in Nature journals this week.
In two separate studies scientists have reported keeping embryos alive, healthy and developing up until the 14-day mark. In both studies the embryos grew autonomously and began processes that lead to organ development –a major improvement on any previous in vitro experiment.
University of Manchester bioethicist John Harris argued in The Guardian that A switch to a 21-day deadline would allow scientists to better understand miscarriages and the possibilities of using stem cells to treat diseases:
"The overwhelming consensus of scientific opinion, as of… click here to read whole article and make comments
Dutch euthanasia cases up by 4%
by Michael Cook | 7 May 2016 |
The number of euthanasia cases in the Netherlands continues to rise steadily. According to the latest statistics released by the government, in 2015 there were 147,010 deaths in the country. Of these 5,516 were reported to be euthanasia or assisted suicide (only 208 cases). This is rise of 4% over the figures for 2014.
Euthanasia is only available in the Netherlands if there is unbearable suffering. In most cases, the reported cause of suffering was cancer.
The most intriguing feature of the statistics was the steep rise in euthanasia for end-stage psychiatric disorders (56, up from 41 in 2014) and dementia (109, up from 81).
According to the Dutch protocols for euthanasia, each doctor is supposed to lodge a report with one of the five regional review committees. In 4 out of the 5,516 cases, the committees detected some irregularities, which will be investigated further.
Be a fan of BioEdge on Facebook